Culture and Scór
Scoláireachtaí Gaeltachta 2023
Applications for Scoláireachtaí Gaeltachta 2023 are now available on this link
÷÷÷÷÷÷÷÷÷÷÷÷÷÷÷÷÷÷÷÷÷÷÷÷÷÷÷÷÷÷÷÷÷÷÷÷÷÷÷÷÷÷÷÷÷÷
Scor na nOg 2023 Champions.
Rince Foirne: Crusheen
Amhranaiocht Aonair: Kate Breathnach. Clarecastle.
Aithriseoireacht: Dylan Corry. Cooraclare.
Ceol Uirlise:  Parteen-Meelick
Bailead Ghrupa: Lissycasey
Rince Set: Cooraclare.
Trath na gCeist: Doora-Barefield.
Club of the Year: Cooraclare
Scor Sinsear 2022
The Clare County Senior Scor Finals will be held on the weekend of Sept 30th -Oct 2nd.
Club members over the age of 17 are eligible to take part in the following competitions Figure dancing, Solo Singing, Recitation, Novelty Act, Ballad Group, Group Music, Set dancing and Quiz. All competitors in group competitions must be members of the same club.
Further information from Scor Chairman Jim Enright, 0870526236 or Scor secretary Anne Hayes 0872663718
======================================================
Dylan Corry, Cooraclare. All Ireland Scor na nOg Champion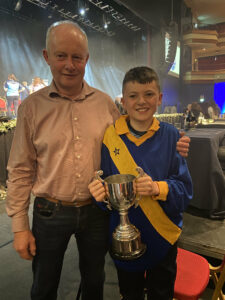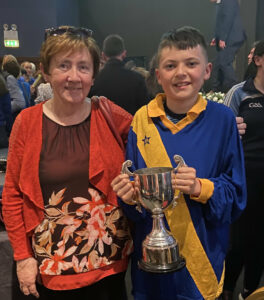 Dylan Corry, Cooraclare won the All Ireland Scor na nOg Recitation title at Scor which was held in the INEC in Killarney on Sunday May 1st.
Dylan won the County, Munster and All Ireland titles in 2022.
Dylan is pictured with County Scor Secretary Anne Hayes and with Noel Joyce who wrote Dylan's poem entitled "The day I scored the winning goal"
Scor na nOg 2022
Clare Scor na nOg 2022 was held in Caherlohan on Saturday evening.​
Only four clubs were represented: Cooraclare, Miltown, Cratloe and Ennistymon with only four of the eight competitions contested.​
The following were the results.​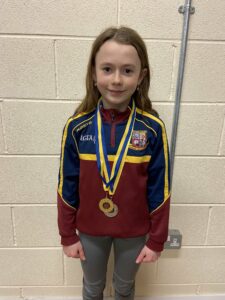 Solo Singing: Aoife Shannon. St Joseph's Miltown.​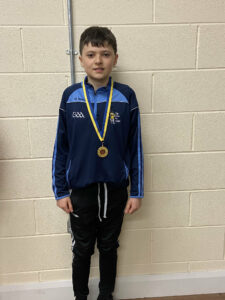 Recitation: Dylan Corry. Cooraclare.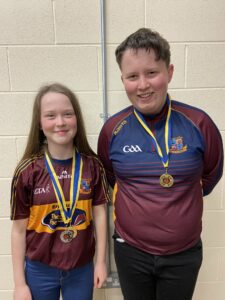 Instrumental Music. St Joseph's Miltown Malbay.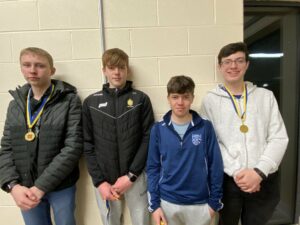 Quiz: Cratloe.​
All winners will represent​ Clare in the Munster final in Cashel on Sunday April 3rd..​
========================================================
Trath na gCeist
As Scor activity has been suspended due to Covid 19, Scor an Chlair are running an online Trath na gCeist (Question time ) competition.
This competition is open to everyone.
There are 70 Questions in total.
5 groups of 14 questions with 2 questions as Gaeilge in each category
Each day this week Scor an Chlair​ will publish a category on their Facebook Scor an Chlair page.​
Return the 70 answers by email to flannoreilly@gmail.com
by Wednesday May 27th. Include your name address & telephone number.
Categories:
Cursai Cumann Luthchleas Gael,
Stair an hEireann,
Tir Eolaicht na hEireann,
Cursaí Reatha na hEireann
Eolas Ginearálta.
Some lovely Clare gear for the winners.
================================================================
Scor Sinsear was held in Wolfetones on Saturday February 22nd.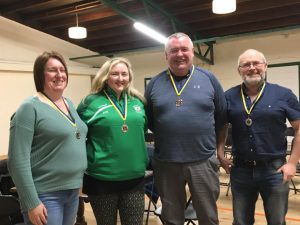 Results as follows:
Solo Singing. Brid Miller. Sixmilebridge.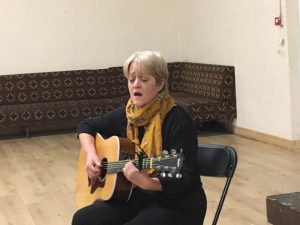 Ballad Group: Sixmilebridge.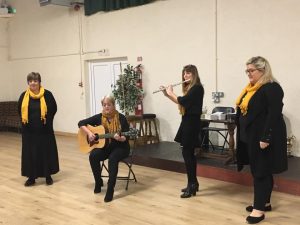 Quiz . Cratloe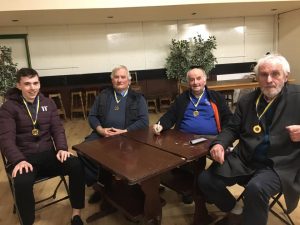 Set Dancing; Lissycasey.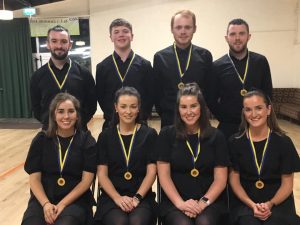 ================================================================
Scór na nOg 2020
There was wonderful talent at the Clare finals of Scór na nOg 2020 which was held at Clarecastle Hall on 1st Dec. Five clubs took part; Cooraclare, Miltown, Banner, Lissycasey and O'Callaghan's Mills.
Fear an Ti was Sean Chambers, Cooraclare.
The medals were presented by Clare Scor Chairman Jim Enright.
The Club of the year was won by St.Joseph's Miltown and the Shield was presented to Seamus Byrne, Miltown club representative.
The winners will represent Clare at the Munster Finals in Ovens, Co Cork on Sunday January 5th.
Amhranaiocht Aonair : Cormac Byrne. St Joseph's Miltown Malbay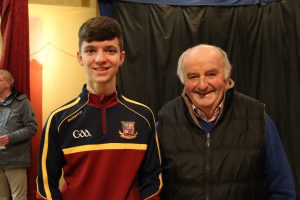 Aithriseoireacht: Dylan Corry: Cooraclare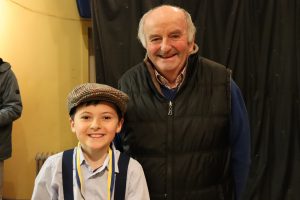 Ceol Uirlise: St Joseph's Miltown Malbay
Bailead Ghrupa: St Joseph's Miltown Malbay
Rince Seit: (Paddy Queally Memorial Cup): Cooraclare.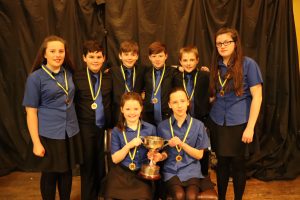 Club of the Year: St Joseph's Miltown Malbay
=========================================================================
Coiste Cultúrtha
Beidh Trath na gCeist as gaeilge i gcoir Craobh na Mumhan ar suil i mí na Samhna. Beidh trí foirne ag dul ar aghaidh ón Cuige go Craobh na hEireann i Pairc an Crocaigh ar 14 Nolliag 2019. This Trath na gCeist Boird is open to all clubs in the Province. All participating must be club members of the 4 member team.
Oifeagach Gaeilge and Culturtha,
Flann O Raghallaigh 0879719902
Scor na nOg 2020
The Clare County Finals of Scor na nOg 2020 will be held on Sunday December 1st at 2,30p.m. at Clarecastle Hall.
The closing date for entries is November 17th and interested clubs are asked to notify Scor Secretary, Aine Ni Aodha by email at aineniaodha@gmail.com of the competitions that they will be entering.
New Scor booklet and new Scor marking sheets are noe available. Please email aineniaodha@gmail.com for a copy of both.
Aine Ni Aodha. Runai Scor.
0872663718​
Munster Final of Scor na nOg will take place in Cappoquin, Waterford on Sunday January 20th.                      All 6 Munster Counties will compete. Clare will be represented by Wolfetones na Sionna (Solo Singing) St. Joseph's Miltown (Music Group) Cooraclare (Set Dancing)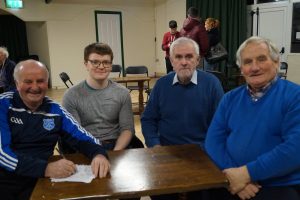 Cratloe Senior Quiz team and Wolfetones na Sionna Scor na nOg Quiz team who won the County titles last week and who will represent Clare at the All Ireland Finals.
Scor na nOg 2019
Only 4 clubs took part in Scor na nOg County Finals at Cree hall on Sunday Dec 2nd.
There were no competitors in Figure dancing, Recitation, Ballad Group or Novelty Act.
Results from Clare Scor na nOg: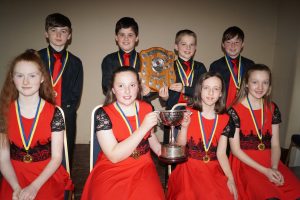 Set Dancing: Cuar an Chlair.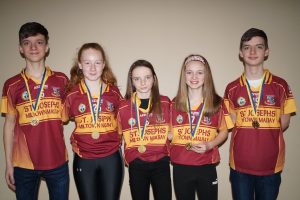 Music: Naomh Iosaif, Sraid na Cathrach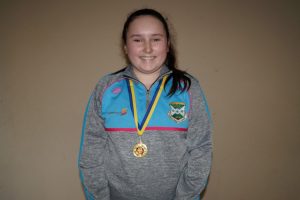 Solo Singing: Shauna Byrne: Wolfetones na Sionna.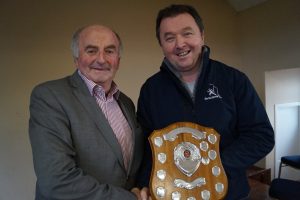 Club of the Year: Cuar an Chlair.