Co Football Championship Final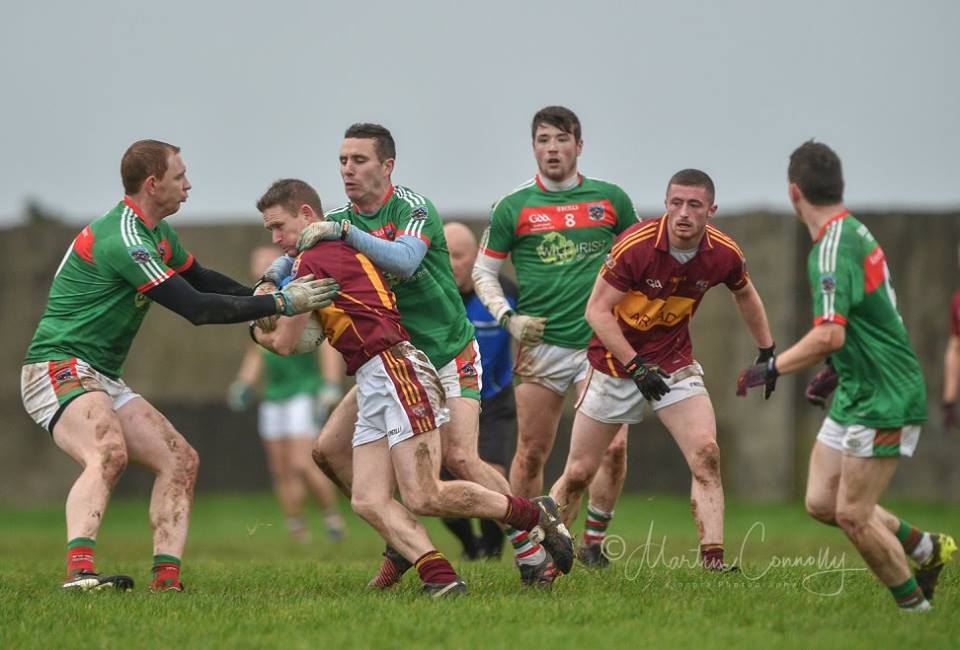 St Joseph's Miltown 0-12  Kilmurry Ibrickane 0-8
The weight of history may have been against St Joseph's Miltown, but that burden finally lifted as a glorious flurry of injury time points saw them crowned Clare SFC champions for the third time in five years and for a 15th time in all at Cusack Park yesterday.
Miltown's denouement to a tense final replay amounted to football with a real flourish — the defending champions responding brilliantly to Keelan Sexton's tour de force for Kilmurry Ibrickane, which yielded 0-6 over the hour, by reeling off the final five points to put titles back-to-back for the first time since 1906.
When substitute Daryn Callinan picked his spot from 40 yards the white flag was in the process of being raised for a 0-9 to 0-8 Kilmurry Ibrickane lead, only for goalkeeper Sean O'Brien to pull the ball down from over the bar and clear his lines. "It was crucial for us," admitted Miltown manager David O'Brien afterwards, "because it kept us level, we had possession and then we could get on the front foot, build an attack and try and get a score."
They did that and much more, with Darragh McDonagh's lead point finally being the trigger for the floodgates to open in a contest played out before a disappointing crowd of 3,917. In the end, however, it was Miltown's legs that saw them home, with the towering performances of twin brothers Conor and Eoin Cleary, as well as McDonagh's closing cameo being decisive in putting daylight between the sides.
It was the Clearys that singlehandedly dragged Miltown back into the game in the first half as a dominant Kilmurry side that bossed the physical exchanges opened up a deserved 0-5 to 0-2 lead with Sexton leading their charge.
With ample possession and chances Kilmurry should have kicked on to a comfortable interval lead only for a booming 50-yard effort from Eoin Cleary in the 28th minute to stop the rot.
Then he followed with a free before Conor Cleary landed another monster to leave the sides deadlocked at 0-5 apiece.
Having held sway for so long in that first 30 minutes Kilmurry must have been crestfallen, but character alone saw them fight every inch of the way in the second half, despite falling behind for the first time when Conor Cleary found the range once more from distance as proceedings entered the last quarter.
Thanks to Sexton, Kilmurry were back in front coming down the stretch as he landed two more placed balls, but just like they hadn't flinched in the first half so it was that Miltown gathered themselves for the big finish.
They were back level on 55 minutes thanks to a McDonagh rasper that flew over the bar when there was a goal at his mercy, but after O'Brien's heroics in foiling Callinan it was finally Miltown's time to turn the screw and kick for home.
McDonagh fired them ahead once more in the 61st minute, with Eoin Cleary, Cormac Murray, and Eoin Curtin providing the afters as Kilmurry's brave resistance finally buckled at the death.
"I've never experienced anything like it," said manager O'Brien.
"The finish to the game, the tension around the game for that past three weeks, it was incredible. The quality of the game might have been down, but you had two teams that gave absolutely everything. Kilmurry have been the team of the last 25 years and to beat them is huge," he added.
Scorers for St Joseph's Miltown: E Cleary (0-5, 4f), C Cleary (0-2), D McDonagh (0-2), Graham Kelly (0-1), C Murray (0-1), E Curtin (0-1).
Scorers for Kilmurry Ibrickane: K Sexton (0-6, 4f, 1 '45), A McCarthy (0-1), I McInerney (0-1f).
ST JOSEPH'S MILTOWN: S O'Brien; E O'Gorman, S Malone, E O'Brien; G Curtin, Gordon Kelly (Capt), A McGuane; D McDonagh, C Cleary, K Malone, B Curtin, O Looney, Graham Kelly, E Cleary, C Murray.
Subs: M Murray for Looney (47), E Curtin for Graham Kelly (54), C Hehir for K Malone (59), J O'Connor for McGuane (64).
KILMURRY IBRICKANE: I McInerney; M Killeen, C Morrissey, D Hickey; D Walsh, M McMahon, S Hickey, K King (Capt), A McCarthy; M Hogan, M O'Dwyer, D Walsh; K Sexton, E Coughlan, D Coughlan.
Subs: E Bracken for King (38), D Callinan for O'Dwyer (43), N Hickey for Hogan (59).
Referee: Fearghal Gray (Feakle)
Report from Irish Examiner 
Miltown 0-09    Kilmurry Ibrickane 0-09
Playing below their best, neither side deserved to win in a stop start affair that attracted an attendance of 5,262. In what was the first championship final meeting between the clubs, the meeting was also historic as it is believed to be the first county final in which an own point was scored, the honour being bestowed upon Miltown's Seanie Malone who registered a point for each team over the course of sixty plus minutes.
Plenty of expectation preceded the decider, unfortunately it didn't live up to it's billing in terms of quality football but the final eight minutes or so delivered in matching excitement levels. The opening half took a while to get going, not just because both sets of teams had to wait for the delayed arrival of Kilmurry Ibrickane captain Keith King to the field.
Tight contests tend to see missed chances scrutinised, Miltown's seven wides was one more than Kilmurry's six, the breakdown of those shots being frees 3:2. Kieran Malone did have goal chances, one in either half but Ian McInerney with a save and a Shane Hickey block prevented the umpires from reaching for the green flag.
Although they were the more dominant team for the majority of the opening half, Kilmurry Ibrickane didn't let this show on the board as the sides retired at the break on four points each. It took twenty three minutes for the first score from play, that being a Michael Hogan point following a Keelan Sexton pass. In the space of sixty four seconds, Miltown also scored from play through the industrious Kieran Malone.
A move from one end of the field to the other off the back of a missed Ian McInerney free almost ended up in his own net but Darragh McDonagh dropped the ball after an excellent pass from Brian Curtin. Miltown took the lead for the first time on thirty five minutes through Cormac Murray only for his own teammate, Seanie Malone to equalise through the wrong posts.
Murray and Sexton traded scores before substitute Eoin Curtin pointed with his first touch of the ball. A dropping Ian McInerney free caused problems in the Miltown defence only for captain Gordon Kelly to punch the ball off the line and alleviate any danger. Sexton added two more spot kicks with Kieran Malone adding his second score to leave the sides level pegging approaching additional time.
Conor Cleary nudged the reigning champions ahead with sixty one minutes on the clock, a dropping Cormac Murray 45 was collected by Eoin Cleary who fed it to his twin brother to rapturous applause. Kilmurry managed to work one more attack in which they were fouled, referee Chris Maguire moved the ball forward for dissent and Ian McInerney with his third attempt on goal made no mistake to leave Jack Daly homeless for one week.
For the replay, whichever outfit puts the lessons learned into practice will be successful. None of them played close to their potential so both David O'Brien and Aidan 'Horse' Moloney will be happy to get another bite at the cherry. Seanie Malone, Conor Cleary and Gordon Kelly did well for Miltown while Daniel Walsh, Keelan Sexton and Ciaran Morrissey had their moments for Kilmurry.
Scorers St Josephs Miltown: E Cleary (0-02 2f), K Malone (0-02), C Murray (0-02 1f), S Malone (0-01), E Curtin (0-01), C Cleary (0-01).
Scorers Kilmurry Ibrickane: K Sexton (0-06 6f), M Hogan (0-01), S Malone (0-01), I McInerney (0-01 1f).
St Josephs Miltown: Sean O'Brien; Eoin O'Brien, Seanie Malone, Enda O'Gorman; Aidan McGuane, Gordon Kelly, Gearoid Curtin; Oisin Looney, Conor Cleary; Michael Murray, Eoin Cleary, Kieran Malone; Brian Curtin, Darragh McDonagh, Cormac Murray.
Subs: Eoin Curtin for M Murray (44), Graham Kelly for Looney (58).
Kilmurry Ibrickane: Ian McInerney; Mark Killeen, Darren Hickey, Martin McMahon; Daragh Sexton, Ciaran Morrissey, Daniel Walsh; Keith King, Aidan McCarthy; Michael Hogan, Shane Hickey, Dermot Coughlan; Niall Hickey, Keelan Sexton, Enda Coughlan.
Subs: Eamonn Bracken for N Hickey (40), Steven Moloney for Hogan (51), Daryn Callinan for E Coughlan (51), Michael O'Dwyer for D Sexton (58), Diarmuid King for K King (58).
Referee: Chris Maguire (Wolfe Tones)
Report from Clare Echo