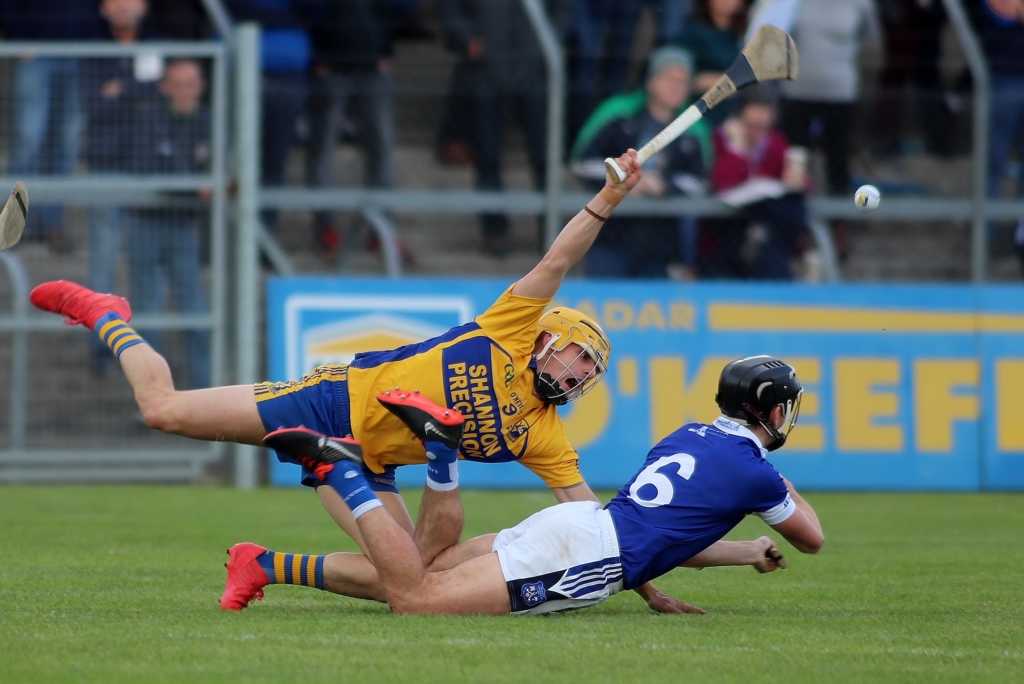 Sixmilebridge 0-21  Cratloe 0-15
In 2013 when Sixmilebridge defeated reigning champions Newmarket-on-Fergus in the county final they ended an eleven year gap to win the senior championship, their biggest drought since claiming their first title in 1977. Now in the space of seven years, they have claimed four championships.
To do so against their other big rivals Cratloe makes it sweeter Garneyside as despite playing second fiddle in the first ten minutes, The Bridge held their nerve and would outscore their opponents 19-9 from here onwards.
A fiery beginning saw Alan Neville's men in Blue take control to build up a 0-06 0-02 advantage, their white flags coming courtesy of Conor McGrath, Shane Gleeson, Rian Considine and Enda Boyce.
On eleven minutes, Cathal Malone pointed when snatching a Seadna Morey sideline cut delivery from a waiting Diarmuid Ryan. Crucially though before, Morey touched the sliotar, McGrath picked up an injury that he was unable to shake off for the remainder of the game, it is no coincidence that this curtailed their challenge. Off the back of Malone's point, The Bridge scored straight from the puckout via Jamie Shanahan. What was a four point lead was cut to two points within seconds.
From here on, The Bridge took over and limited Cratloe to just three points for the remainder of the half while adding seven of their own.
Despite it being county final day and a derby clash, the ferocity that existed in the first ten minutes was non-existent for the second half. Although Sixmilebridge's lead for the most part was four points, it felt much larger such was the lack of life emerging from Cratloe. Energy was zapped from their challenge as they missed scoreable chances, their wide tally of twelve included four from frees, Alex Morey on the otherhand had one hundred percent accuracy from placed balls.
Barry Fitzpatrick wearing number three on his back for the Bridge fired over a point from distance with thirty four minutes gone, the sign if any was needed that this was their day. Substitute Conor Deasy pointed with his first shot on goal as Diarmuid Ryan and Morey traded efforts.
A goal was needed to reignite Cratloe's challenge but their struggle to feed danger men Cathal McInerney and Rian Considine persisted as the sweeping presence of Caimin Morey diluted any threat. They would go spells of eleven and nine minutes without a score as their neighbours constantly kept the scoreboard ticking over.
ck to back final defeats will be difficult to stomach for Cratloe. The two champions have appeared in six finals since 2009 and similar to last year played nowhere near their best on the big day. McGrath was their main man in getting them to the county final and his injury was the worst possible scenario. Regrettably for them, not enough players were at their best, freetaking remains an issue but their exploits over the last decade have to be applauded. Martin Oige Murphy, Diarmuid Ryan and Liam Markham tried hard for the cause.
Tim Crowe's Sixmilebridge had their homework done and the plan was executed. They didn't allow any space in front of their own full-back line leaving the danger men of Cathal McInerney or Rian Considine with no room to run riot. They were also guilty of bad wides but had a greater spread of players causing damage. This particular bunch of players have now developed a knack for doing the business when it matters most. Cathal Malone, Seadna Morey, Caimin Morey, Barry Fitzpatrick and Alex Morey were to the fore for the champions.
There is no denying they were the stronger of the two panels and had more options to come from the bench to swing a game. While other clubs are rushing young players into their teams, The Bridge only recruited four members of their minor panel in the run-up to the final to give them a sample of training with the seniors. This pick of player is not available to every club but the ongoing work in the underage side of the club allows for more players to emerge from the ranks.
Scorers for Sixmilebridge: Alex Morey (0-8, 7f); Cathal Malone (0-4); Brian Corry, Jamie Shanahan, Conor Deasy (0-2 each); Jason Loughnane, Shane Golden, Barry Fitzpatrick (0-1 each)
Scorers for Cratloe: Shane Gleeson (0-5, 3f); Diarmuid Ryan (0-3); Rian Considine, Cathal McInerney (0-2 each); Conor McGrath, Enda Boyce, Billy Connors (f) (0-1 each)
Sixmilebridge: Derek Fahy; Brian Carey, Noel Purcell, Barry Fitzpatrick; Caimin Morey; Pa Mulready, Paidi Fitzpatrick, Seadna Morey; Shane Golden, Evan McInerney; Jason Loughnane, Jamie Shanahan; Cathal Malone, Alex Morey, Brian Corry.
Subs: Conor Deasy for Loughnane (HT), Alan Mulready for Corry (59), Kevin Lynch for A Morey (61), Niall Gilligan for Shanahan (61), Cathal Lynch for McInerney (61)
Cratloe: Gearoid Ryan; Martin Oige Murphy, Shane O'Leary, Michael Hawes; Damien Browne, Diarmuid Ryan, Liam Markham; Conor McGrath, Enda Boyce; Shane Gleeson, Billy Connors, Sean Collins; Podge Collins, Cathal McInerney, Rian Considine.
Subs: Sean Chaplin for Connors (HT), David Collins for S Collins (38), Jack McInerney for McGrath (51).
Referee: Niall Malone (Éire Óg)
Report from Clare Echo