Clare Senior Hurling Team v Antrim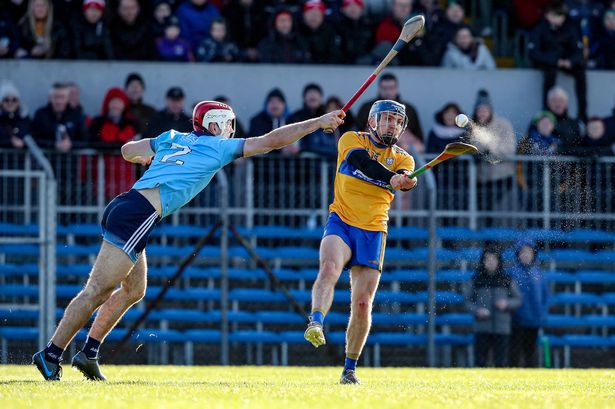 CLARE SENIOR HURLING TEAM TO PLAY ANTRIM IN ROUND 1 OF THE 2021 ALLIANZ HURLING LEAGUE IN CORRIGAN PARK, BELFAST,​ SUNDAY 9/5/21 AT 1PM.
1. Eibhear Quilligan E. Cuileagain (Feakle)
2. Paddy Donnellan P. O Donnallain (Broadford)
3.​ Conor Cleary​ C. O Cleirigh (St Josephs Miltown Malbay)
4.​ Paul Flanagan P. O Flannagain (Ballyea)
5.​ Diarmuid Ryan D. O Riain (Cratloe)
6.​ John Conlon, captain S. O Conallain (Clonlara)
7.​ Aidan McCarthy A MacCarthaigh (Inagh/Kilnamona)
8.​ Cian Galvin C. O Geallabhain (Clarecastle)
9. Tony Kelly A O Ceallaigh (Ballyea)
10. Cathal Malone C. O Maoileoin (SIxmilebridge)
11. David Reidy D. O Riada (Eire-Og, Inis)
12.​ Colin Guilfoyle G. MacGiollaphoil (Newmarket on Fergus)
13. Ryan Taylor R. O Tailliuir (Clooney/Quin)
14. Aaron Shanagher A O Seanachair (Wolfe Tones na Sionna)
15. Shane O Donnell S, O Donaill (Eire-Og, Inis)
16. Eamon Foudy E O Fuada (Inagh/Kilnamona)
17. Liam Corry L O Corra (Eire-Og, Inis)
18. Jack Browne S DeBrun (Ballyea)
19. Aaron Fitzgerald A MacGearailt (Eire-Og, Inis)
20. David Fitzgerald D MacGearailt (Inagh/Kilnamona)
21. Shane Golden S O Goilin (Sixmilebridge)
22. Domhnall McMahon D. MacMathuna (Michael Cusacks)
23.​ Rory Hayes R O hAodha (Wolfe Tones na Sionna)
24. Mark Rodgers​ M. MacRuairi (Scariff)
25. Jason McCarthy S MacCarthaigh (Inagh/Kilnamona)
Backroom:
​ Manager: Brian Lohan​
​ Selectors: Ken Ralph,​ James Moran,​ Sean Treacy,​ Shane Hassett
Medical Dr Padraig Quinn. Physio: Brendan Hill.