Clare Senior Hurling Quarter-Finals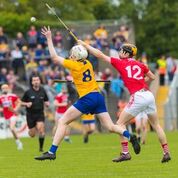 Sixmilebridge 3-16  Éire Óg 1-19
En route to the quarter-final stage, Éire Óg have faced off with tough opposition following bouts with Kilmaley, Clonlara and Newmarket-on-Fergus. It certainly stood to them and was evident from their gutsy display but like their second round loss to Clonlara, they once again conceded three goals which on this outing gave their opponents a constant upperhand.
Telling by their display, Sixmilebridge have been without a championship in four weeks. The task at hand was to win and they did but weaknesses were highlighted that had never been so apparent in their lineup before.
As underdogs, Éire Óg needed to get a break early on. The opposite occurred as Aaron Fitzgerald was forced off with injury, being their strongest defender losing Fitzgerald was a mammoth blow. Two minutes after the county footballer left the field, Sixmilebridge struck for their first goal via Brian Corry, two more followed in the space of three minutes as Evan McInerney and Alex Morey hit the net. In between Corry and McInerney, Shane O'Donnell finished a brilliant individual effort past Derek Fahy.
Despite shipping three goals in such a short window, the Ennis side regrouped well and outscored The Bridge six points to three in the second quarter to trail by a goal at the interval.
Dara Walsh and Danny Russell reduced the gap to the minimum two minutes into the second half. The reliable Morey kept Sixmilebridge's account ticking over. Everytime Éire Óg mainly through Russell would add a score, they conceded at the other end and never managed to put more two points together back to back.
Goal chances were spurned by the Townies, Nathan Murray and Tom Downes missed opportunities that needed to have been taken if they were to reach the semi-finals. As the pressure mounted, their coach Matt Shannon was sent to the stands by Damien Fox with the tie entering the final ten minutes. Both sides added four points each during this period to guarantee The Bridge did just enough to qualify to the last four.
For the fourth year in succession, Éire Óg have been eliminated in the quarter-finals. Some factors for their defeat have already been mentioned, their reactions were that bit off the pace required to be progressing to the last four. Brian Corry and Alex Morey goaled following fine saves from Philly Walsh, the blame here not resting with the netminder but rather his defenders for not being sharp enough to get the sliotar out of the danger area once it left his hurley.
They will undoubtedly rue this loss as they may never get as good a chance of knocking out Sixmilebridge. Danny Russell once again wreaked havoc up front while Shane O'Donnell, David Reidy, Kevin Brennan and Aidan McGrath stood out.
Winning is the not the only positive to come from this result for Sixmilebridge, it was a wake-up call that came without costing them their place in the championship. Though they were much more alert than their Newmarket-on-Fergus neighbours in dealing with the threat of Danny Russell, by switching a new player on to him, their full-back line looked very vulnerable where the absence of Aidan Quilligan and Paídí Fitzpatrick was felt.
Alex Morey was their star player as he contributed 68 percent of their scores, surprisingly they managed just seven points from play, a figure which definitely will have to increase. Crucially, they raised the green flags and possess the danger men capable of pouncing for goal when the opportunity arises. Along with Morey, Evan McInerney impressed and is becoming their main man-marker.
Scorers Sixmilebridge: A Morey (1-12 9f), E McInerney (1-01), B Corry (1-00), J Loughnane (0-01), C Malone (0-01), J Shanahan (0-01).
Scorers Éire Óg: D Russell (0-13 7f 2'65), S O'Donnell (1-03), D Reidy (0-02 2f), D Walsh (0-01).
Sixmilebridge: Derek Fahy; Barry Fitzpatrick, Brian Carey, Noel Purcell; Pa Mulready, Seadna Morey, Caimin Morey; Shane Golden, Evan McInerney; Jason Loughnane, Jamie Shanahan, Conor Deasy; Brian Corry, Cathal Malone, Alex Morey.
Subs: Paidi Fitzpatrick for Deasy (57), Alan Mulready for Golden (59).
Éire Óg: Philly Walsh; Liam Corry, Aaron Fitzgerald, Tadhg Connellan; Niall McMahon, Aidan McGrath, David McNamara; David Reidy, Tom Downes; Kevin Brennan, Shane O'Donnell, Dara Walsh; Darren O'Brien, Danny Russell, Nathan Murray.
Subs: Rory Gallagher for Fitzgerald (10) (Inj), Marc O'Donnell for Murray (42)
Referee: Damien Fox (Clooney/Quin)
Crusheen 0-18  Ballyea 2-11
Their success was fully merited as they displayed their trademark desire and grit to overcome a Ballyea side who themselves showed such traits in recent seasons claiming the Canon Hamilton in 2016 and 2018.
A dominant opening half for Crusheen in which they scored eleven points through eight different scorers saw Ballyea enter the dressing room at half-time knowing their status as county champions
was on the brink.
Ballyea upped their game considerably in the second half, Tony Kelly returned to the field having been substituted moments before half-time after receiving a shoulder from Alan Brigdale. In fact, they outscored their counterparts 2-05 0-07, the goals coming courtesy of Gary Brennan and a sixty sixth minute Kelly free.
During the seven minutes of additional time, six were signalled, Niall Deasy who in recent campaigns has been instrumental in Ballyea's success saw his free from the opposing 65m line tail to the right hand side of the goalpost in what turned out to be the last puck of the game. Without Deasy today, they would not have been in contention towards the closing minutes.
With the conclusion of their year, Kevin Sheehan's Ballyea will be disappointed. They can have no excuses, they squandered too many scoring chances hitting fourteen wides, their opponents had eight. It was in their own attack where the game fell from them, not only because of the missed chances but the absence of workrate. At times in defence their use of the ball caused self-inflicted problems which Crusheen punished. Jack Browne was the standout player for the two time champions.
They may have been guilty of easing up on the gas in the second half but Crusheen lived to tell the tale. A semi-final is the prize and none of the remaining clubs will be keen to draw the Blood and Bandages. Their spread of scorers, nine different players registered on the scoresheet in comparison to Ballyea's three and proved to be the groundwork of their success.
Critical to their progress has been how James Carrig's management have blooded in young players to accompany their experienced men. Jamie Fitzgibbon, Ciaran O'Doherty, Donal Tuohy and Paddy Vaughan were most impressive for the winners.
Scorers Crusheen: J Fitzgibbon (0-04), R Hayes (0-04 2f), C O'Donnell (0-03), B Horner (0-02), É McMahon (0-01), F Kennedy (0-01), P Vaughan (0-01), J Brigdale (0-01), Cian Dillon (0-01).
Scorers Ballyea: N Deasy (0-07 4f), T Kelly (1-04 1-00f), G Brennan (1-00)
Crusheen: Donal Tuohy; John Brigdale, Cathal Dillon, Alan Brigdale; Tadhg Dean, Cian Dillon, Ciaran O'Doherty; Jamie Fitzgibbon, Ross Hayes; Paddy Vaughan, Fergus Kennedy, Éanna McMahon; Conor O'Donnell, Cilléin Mullins, Breffni Horner
Subs: Mark Perill for Vaughan (42) (Inj), Gavin O'Brien for A Brigdale (55) (Inj), Sean Weir for Mullins (57), Darragh O'Doherty for McMahon (60), Luke Hayes for Kennedy (64).
Ballyea: Barry Coote; Brian Casey, Paul Flanagan, Peter Casey; James Murphy, Jack Browne, Brandon O'Connell; Gary Brennan, Tony Kelly; Pearse Lillis, Tadhg Lynch, Ryan Griffin; Martin O'Leary, Niall Deasy, Aonghus Keane.
Subs: Morgan Garry for Kelly (30), Tony Kelly for Garry (HT), Damien Burke for Keane (36), Aaron Griffin for O'Leary (46), Morgan Garry for Lynch (57).
Referee: Jim Hickey (Cratloe)
Report from Clare Echo