Clare GAA Review Committee Formally Ratified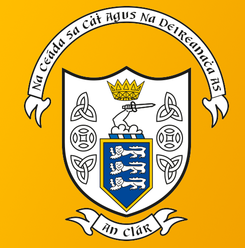 The new committee to develop a five year strategic plan for Clare GAA has been formally ratified by club delegates at their March gathering.
The group, which was formed of the back of motion from Eire Óg GAA club, were proposed en block by the Ennis club, with John Keane of Doonbeg GAA Club seconding the proposal.
Clarecastle's Mark O'Connell (CEO of Repucon Consulting), Parteen man Conor Gilligan (CEO of Roadbridge), Ogonnelloe's Colin Kelly (CEO of Gyrogy), Eoin Conroy of Barefield (CEO of Titan Experience), Ennis man Eoin Doohan (Managing Director of DFP Group, Enda Connolly of Ennis (Managing Director of CMP Investment Partners) and Enda O'Flaherty of Shannonside will be joined by Kilrush native Roisín Glynn, who is a senior manager with AIB, along with current vice chairman Kieran Keating.
Eire Óg chairman Jimmy Cooney informed delegates of the process of the last two weeks which saw the group meeting virtually with the board executive and outlining their plans and terms of reference. He also outlined that former Davy Stockbrokers CEO Tony Garry had stood aside for personal reasons. It is hoped that the group will make a presentation to the next board meeting in April.
Tulla GAA club delegate Brian Torpey was the only speaker on the evening to directly address the issues raised in relation to the Clare Hurling Supporters Club from 2012-2016 which have been raised by both The Sunday Times and Sunday Independent in recent weeks. He suggested that the board commission its own auditor, Anthony Fitzpatrick, to investigate the issue and to publish the accounts. He stated that the "only way to kill rumour is with fact", but his suggestion was not followed up on by either the executive or fellow delegates with the discussion moving on without ever returning to the topic.
Sixmilebridge delegate Christy Murray informed the meeting that "the media have a license to do what they like. The Bridge is not in disarray and if anyone wants to stop us winning three in a row they will have to train harder than us. The other thing is, I want to say, Sixmilebridge are 100% behind the Fitz's. Pat Fitz has done untold work for Clare and you have never met anyone as passionate as Davy Fitz in hurling. I'd say he sleeps with the hurley and ball. I just want to say that from the Bridge club. We are a big club and a lot of people maintain that we are in disarray, I can assure you we are not. If anyone wants to take that cup, they will have to go and beat us".
It was also decided that a decision on whether to play an U-19, U-20 or U-21 grade for 2021 would wait until the April meeting, when its hoped there will be more clarity in relation to Covid-19 restrictions.
A more detailed report will be in the print edition of this week's The Clare Champion