Ballyea bow out after double extra times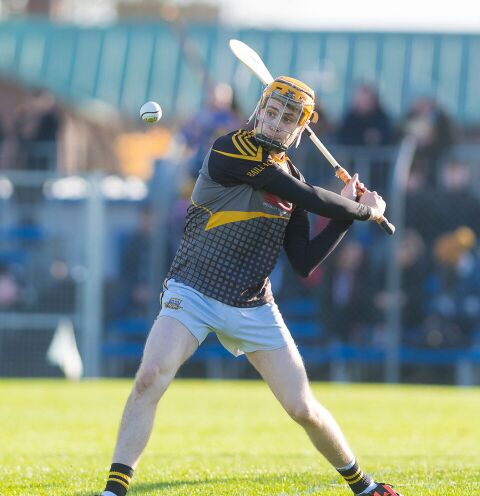 Ballygunner 2-26         Ballyea 2-23
Waterford champions Ballygunner will meet Limerick's Na Piarsaigh in the Munster senior hurling club final after an epic double-extra-time win over Ballyea in a damp Walsh Park.
Ballyea attacked the scoreboard end and opened with a Tadgh Lynch point. Inevitably, Pauric Mahony equalised with a free, and Ballygunner led 0-3 to 0-1 approaching the ten-minute mark.
By the 13th minute it was level, thanks to a Niall Deasy (free) and a fine Tony Kelly point, but Mahony nudged his side ahead again.
Both teams were guilty of leaking points through wayward passes out of defence but the home side were slightly more efficient, nudging three ahead.
Ballyea then came alive – Niall Deasy had two quick points and Martin O'Leary levelled: 0-7 each on 22 minutes.
Deasy gave Ballyea the lead two minutes later and then Kelly cut a sideline over the bar. Mahony replied with a free, but then Deasy slalomed through and hit a terrific goal from an acute angle. Ian Kenny replied with a long-range point but it was Ballyea leading at half-time, 1-9 to 0-9.
Kelly, O'Leary and Gary Brennan had three points in a row on the restart and the gap was six on 35 minutes. Mahony hit a Ballygunner free but it was all Ballyea. The home side needed a goal, and it was Conor Power who provided it with a fine turn and finish: 1-13 to 1-11 on 40 minutes.
Power added a point immediately afterwards and it was a one-point game turning into the final quarter. Gary Brennan pushed Ballyea two ahead but Mahony replied with two frees and it was level.
Mahony pushed his men ahead with eight minutes on the clock and Lynch equalised from long range.
advertisement
Brian O'Sullivan grabbed the lead for Ballygunner and Mahony added another point, but Lillis nudged home a dramatic goal on 57 minutes to push Ballyea one ahead. Martin O'Leary made it a clear goal lead for the Clare men, but there was still time for Philip Mahony's dramatic leveller.
In extra time Niall Deasy hit two early points. Mahony responded with a free and Barry O'Sullivan levelled.
A Deasy free pushed Ballyea one ahead but a Mahony free levelled matters at half-time: 2-20 apiece.
The teams started to flag in the second period, unsurprisingly, but Deasy and Mahony swapped frees before Peter Hogan and Brian O'Sullivan pushed Ballygunner two up. A Deasy free made it a one-point game and the same man levelled with the last puck of extra time, a 65, 2-23 apiece: the second round of extra time beckoned.
In the second stage of extra time players were clearly struggling to even create chances but Barry O'Sullivan managed one point for Ballygunner: 2-24 to 2-23 at half-time.
Kelly hit the post with a point effort on the resumption and Ballygunner came upfield, with Mahony putting them two up with a fine strike. Sub Conor Sheehan made it a three-point lead and the Waterford men looked set for victory.
Scorers for Ballygunner: Pauric Mahony (0-13, 8 frees); C. Power (1-2); Barry O'Sullivan (0-4); Brian O'Sullivan (0-3), P. Mahony (1-0); B. O'Keeffe, I. Kenny, P. Hogan, C. Sheehan (0-1 each).
Scorers for Ballyea: N. Deasy (1-10, 4 frees, 1 65); P. Lillis (1-2); M. O'Leary (0-4); T. Kelly (0-3, 1 sideline); G. Brennan, T. Lynch (0-2 each).
BALLYGUNNER: S. O'Keeffe (JC), E. Hayden, B. Coughlan, I. Kenny, Philip Mahony, W. Hutchinson, B. O'Keeffe, H. Barnes, S. O'Sullivan (JC), Pauric Mahony, P. Hogan, Brian O'Sullivan, T. O'Sullivan, M. Mahony, C. Power.
Subs: Barry O'Sullivan for M. Mahony (HT); JJ Hutchinson for B. O'Keeffe (40); S. Power for T. O'Sullivan (60); T. O'Sullivan for S. Power (Start ET); S. Power for M. Mahony (HT ET); B. O'Keeffe for W. Hutchinson (73); C. Sheehan for Hogan (77); D. Sheehan for Neylon (77).
BALLYEA: B. Coote, J. Neylon, B. Carrigg, B. O'Connell, J. Murphy, J. Browne, A. Keane, T. Lynch, T. Kelly (c), P. Lillis, N. Deasy, C. Brennan, M. O'Leary, G. Brennan, R. Griffin.
Subs: E. Donnellan for Griffin (54); G. Flynn for Carrigg (59); A. Griffin for C. Brennan (60); C. Brennan for A. Griffin (ET); B. Casey for B. O'Connell (72); C. Brennan for A. Griffin (75).
Referee: F. Horgan (Tipperary).
(Courtesy Irish Examiner)