St Joseph's through to Munster Senior Football Final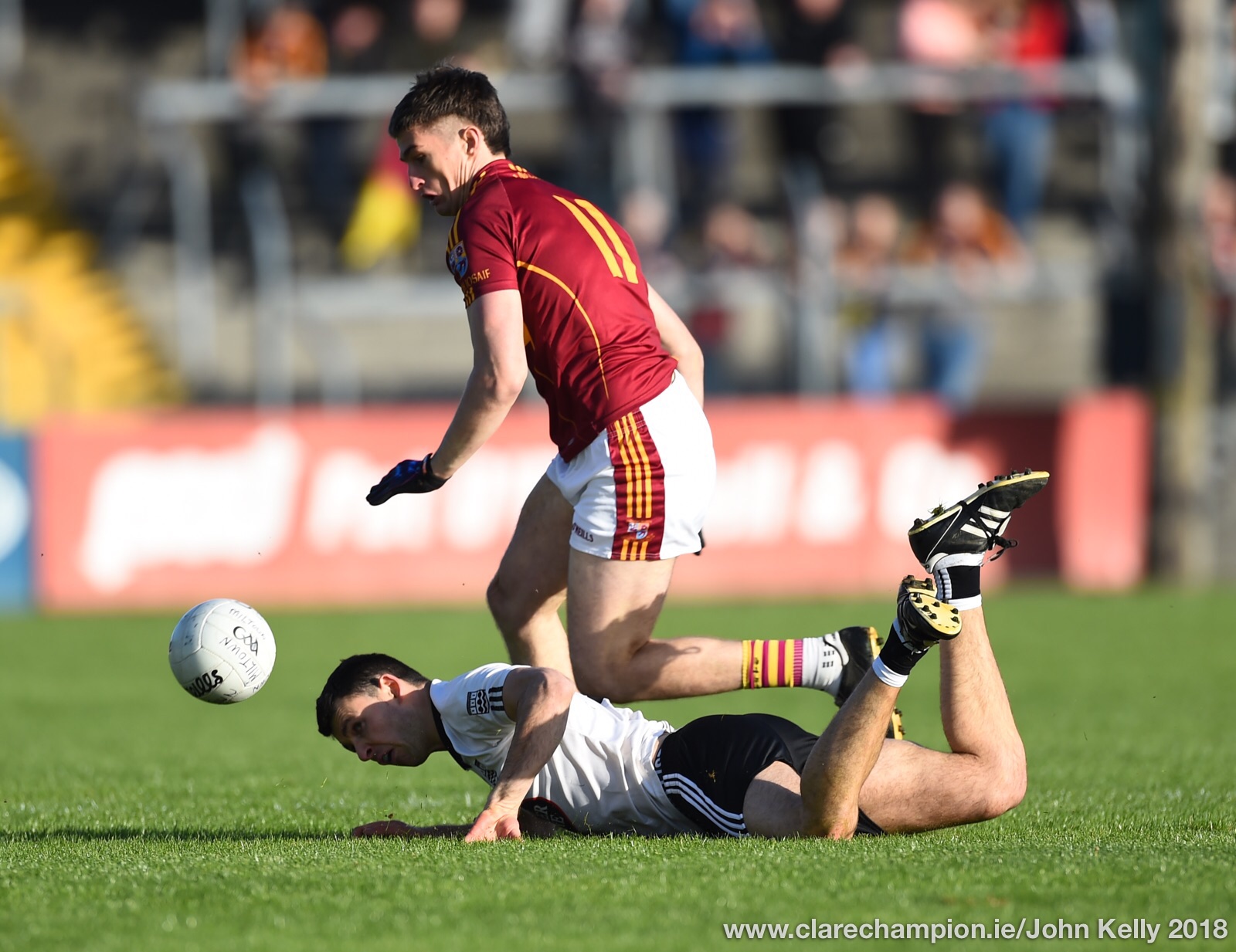 St Joseph's Milltown 2-11      The Nire 0-9
Two second-half goals helped book a Munster final slot for St Joseph's Miltown Malbay yesterday in Fraher Field, Dungarvan.
In a low-scoring game, an early sight of goal for Nire danger-man Conor Gleeson was crucial, but he had to snatch at the shot and Miltown keeper, Sean O'Brien saved.
At the other end, Cleary's driving runs and frees helped the Clare men to an early lead, 0-4 to 0-1: Gleeson, Jamie Barron and Shane Ryan levelled matters at the end of the first quarter, but Kieran Malone, Conor Cleary and the dangerous Cormac Murray helped the visiting side push ahead again.
Gleeson had the last word of the first-half but it was Miltown ahead, 0-9 to 0-5, and the visitors looked more comfortable. They were direct and attacked with purpose while The Nire were slower in their build-up play in the middle of the field, allowing their opponents to funnel back to defend in numbers. Also, The Nire had tried three different free-takers in that first-half with mixed results; at the other end, Miltown had had two clear goal chances which they hadn't taken, an ominous sign for their opponents.
On the resumption, the wind and rain picked up considerably, and both sides struggled to express themselves. Shane Walsh and Dylan Guiry found the range for The Nire before the first goal arrived, on 40 minutes – Cormac Murray cut through from the wing before finishing to the roof of the net.
That made it 1-10 to 0-7 on a day when a goal had considerably more value than just the three points, such was the struggle to score one. Credit to Jamie Barron, he had two points – one from a goal chance – to keep the Waterford men alive, but then substitute Sean Malone struck the Clare side's second goal entering the final 10 minutes.
A loose ball squirted free near The Nire goal and Malone's first-time connection made it 2-10 to 0-8, ending the game as a contest. There was still time for that penalty shout from The Nire when Conor Gleeson was grounded close to the Miltown goal, which might have signalled a grandstand finish but referee O'Sullivan waved play on.
That, and the reversed decision to send McGrath off were being discussed in groups all along the road back to Dungarvan after the final whistle.
Scorers for St Joseph's: C Murray (1-1); S Malone (1-0); E Cleary (frees) (0-3); K Malone, C Hehir (0-2 each); C Cleary, O Looney, E Curtin (0-1 each).
Scorers for The Nire: J Barron (0-3); C Gleeson (0-2, 1 free); T Barron, S Walsh, S Ryan, D Guiry (free) (0-1 each)
ST JOSEPH'S: S O'Brien, A McGuane, E O'Gorman, E O'Brien, C Hehir, G Kelly (c), J O'Connor, O Looney, D McDonagh, E Curtin, C Cleary, K Malone, B Curtin, E Cleary, C Murray.
Subs: S Malone for McDonagh (48); E Reidy for J O'Connor (55); G Kelly for Curtin (57); M Murray for Looney (60).
THE NIRE: D Murphy, D Meehan, T O'Gorman (vc), M Moore, J McGrath, T Barron, Darren Guiry, T Guiry, C Guiry, S Ryan, Dylan Guiry (c), J Barron, S O'Meara, C Gleeson, S Walsh.
Subs: D Ryan for T Guiry (37); C Mulcahy for Meehan (47); C Walsh for O'Meara (57).
Referee: P O'Sullivan (Kerry).