Friends of Clare GAA
The Clare Association,Dublin are pleased to announce that Laura Brennan, has been awarded the 2019 Clare person of the year. The Association's Hall of Fame Award 2019 goes to Christy Killeen a founding member of Friends of Clare GAA.
The Clare Association will bestow Laura Brennan with the prestigious award on March 2nd, along with a Hall of Fame Award for Friends of Clare GAA co-founder Christy Killeen.
The presentation of these awards will be held at the associations annual dinner dance taking place at the Red Cow Moran Hotel on Saturday 02 March 2019 and all are welcome.
Muintir an Chlair-Clare Assoication
Tickets for this special event can be obtained through the association website info@clareassociationdublin.ie or from the following:
Michael 0857371231
Mary 0868500352 or
Gerry 0868498192

Chairman's Report for 2015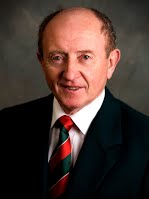 Welcome to our 25th AGM which will cover the 24th year of our operation and lead us into the 25th term of fundraising for the youth of Clare GAA. I would like to encourage new thinking and perhaps different endeavours as we head past the quarter century. But back to the year gone by. Let's have a moment of reflection for Frank Cleary, Michéal Bohan. Also extend sympathy to Jackie Greene on death of his sister.
This being our 25th AGM, I thought it important that a report of the last 25 years should be put together. This has been achieved through a Feature Article that I wrote and which has been published almost in its entirety by the Clare Champion on November 28th 2014. Copies of this are being put forward at this meeting, hence my Chairman's address will be brief and in summary format.
Newlands GC was again our venue for the Golf Classic last May. The event was a resounding success all round with over 40 teams and numerous sponsors. A look at the Treasurer's report shows a very good return. Thanks again to Séan Hegarty for being such a generous main sponsor of our Golf Classic. A special mention goes to Jimmy Gavin not alone for his role as Captain in welcoming everybody to the event but in his entertainment after the Presentation in singing My Lovely Rose of Clare and Dublin in the Rare Ould Times. Our history making U21 hurlers ensured that we had Silver to display on our stand. We salute them as a team and as standard bearers for our youth. Glad to have contributed €2,000 to their preparation. Separately we presented €14,000 to the CB in support of underage development for football & hurling.A putting competition was run in parallel all day by Michael Anglim and Mick Clancy. Although not as successful as we expected, the idea was fresh and attractive and in better weather conditions and a harder sell on the day it could improve.
The new President of Clare GAA is Tadgh Murphy of Cooraclare. I wrote this letter to him on his election. Pat Nihill also wrote a letter to Colm Collins as Manager Clare football team. During the year we got very good exposure from the Clare Champion through print and pictures. It never failed to carry material that I sent for publication and we owe a special word of thanks to Seamus Hayes for this.
As part of their acknowledgement of our 25 years, the Clare County Board hosted a celebratory dinner for the officers in the Templegate Hotel on Sat 22 Nov. 2014. County Board attendees were: Michael McDonagh (Chairman), Pat Fitzgerald (Secretary) and Bernard Keane (Treasurer). Matters discussed included:

Does the county board harbour the same zeal as did Brendan Vaughan in relation to the existence of F & S, Dublin, for fundraising?
Fundamental changes in whole GAA scene over past 25 years

More commercially orientated, GPA and player power, multi-media deals, premium seating, high admission charges, merchandising.

In this climate people see the GAA as awash with money and not a particularly needy subject for fundraising
Urged cb to continue to display visible & practical demonstration of our work as opportunities arise, such as:

Making appropriate public references to us in statements, written and verbal.
Promoting F & S with clubs urging them to encourage known acquaintances living in Dublin to make contact with us. Also to remind clubs of our webpage within the Clare GAA webpage.

Arrange for a formal letter of acknowledgement from cb to our contributions at the time of giving.
CB was made aware that I will retire from the chair and F & S activity at end of the 25 years, i.e. December 2015.
We are very grateful for the various invitations we have received for Clare GAA functions over the years and for admissions to matches.
I have been asked to get back to them on how they might further mark this achievement. Some informal discussions point to the idea of getting a formal official letter from Clare CLG compared to plaques etc. This to be followed up and brought to an agreed criterion and conclusion. (See criteria draft list).

A sincere thank you to members of committee and especially to Pat Nihill, Anne Greene and Fiona Killeen who ensures that all participants are properly registered on the day. On behalf of our Group I want to extend our deep appreciation to teams and sponsors alike. Again a special appreciation to Séan Hegarty for such unstinting sponsorship of Prizes.
Christy Killeen
Chairman
22/01/2015
---
Silver Jubilee Golf Classic
Friends & supporters, Clare G.A.A.
Newlands Golf Club Thursday 14th May 2015
Fáilte ón gCathaoirleach: Is bréa go mór liom 'Céad Mile Fáilte' a chur róimh go dtí ár 25ú Annual Golf Classic. Following an approach to Pat O'Donnell by Chairman of Clare County Board, Breandán O Bheacháin (RIP), a small meeting of Clare people in Dublin was convened in the Clarence Hotel on September 15th 1990. This became the inaugural meeting which founded Friends of Clare GAA, Dublin. The consideration was that a Dublin based fund-raising group, would be very beneficial to Clare GAA.
The structure included four Patrons, Noel Keating (Kepak), Donal Chambers (AIB), Séan Hegarty (Hegarty Demolition), Pat O'Donnell (Pat O'Donnell &Co. Ltd.), each contributed £1,000 as a reserve. Officers elected: Chairman, Jimmy Smyth (Ruan); PRO, Pat O'Donnell (Crusheen); Joint Secretaries &Treasurers, Simon Moroney (Inagh) & Maurice Murphy (Scariff); Vice- Chairman, Christy Killeen (Cooraclare).
Committee: Myles Clancy (Kilnaboy), Séan Harte (Scariff), Pat Henchy (Ruan), Séan Hegarty (Ennistymon), Noel Keating (Kilrush), John O'Halloran (Doonbeg), Séan O'Laoire (Inagh), Tony Vaughan (Maghera). Funds have been placed at the disposal of Clare County Board primarily for the development and promotion of Gaelic games at underage level. The merging of 'Clare GAA Supporters Club' with 'Friends of Clare GAA' took place in 2001 to become what we are to-day. My sincerest thanks are due to our dedicated committee. We are truly grateful to all our participants over the quarter of a century which has enabled us to contribute near €500,000 to Coiste CLG an Chlair. Visit our pages in www.claregaa.ie . Go n-éirí go gheal libh uile sa lá atá ann inniu
Our Captain's Message
We are a generation of Clare people who are truly blessed, having lived to see Clare win 22 trophies across all grades in Championship Hurling, including 3 Senior All Ireland Hurling and 3 in a row U21 Hurling titles. I never in my wildest dreams as a child could have predicted that! This recent success can only occur with true grass roots support, with small clubs turning out to train and play in all weathers, with managers, coaches, physios and selectors all playing their part in the advancement of our games. Families, friends and neighbors heading out every weekend to support their club help sustain the players as they make huge sacrifices to achieve such levels of skill and fitness.
It is our duty as loyal fans of Hurling and Football to support the enormous dedication of the players and backroom staff, if it weren't for them we would never have enjoyed such marvelous days in pitches all over the country, culminating in such momentous wins in Pairc Ui Chaoimh, Cusack Park, Semple Stadium and Croke Park. This is the 25th year of the Friends and Supporters of Clare GAA Golf Classic and I would like to extend my thanks to all who have supported this event over the past 25 years.
It is your generous contributions of time and money that have enabled us to contribute to the development of Clare GAA and we are truly appreciative of that assistance and we trust that this year's Golf will be another enjoyable day for all concerned. Pat O'Donnell, Captain 2015
| | | | |
| --- | --- | --- | --- |
| TIME | TEAM | TIME | TEAM |
| 0804 | ÁRAS CHRÓNÁIN IONAD CULTÚIR(Brian Ó Gaibhín)jg | 1307 | PAT CUNNEEN ck |
| | 0900 -1000 Newlands members | 1316 | COPPER FACE JACKS pn |
| 1000 | CLONMEL ENTERPRISES (Séan Harte) sh | 1325 | MICHAEL WHELAN pn |
| 1007 | THE BANNER BOYS  bs | 1334 | THE GOAT PUB (Charlie Chawke)ck |
| 1016 | PAT O'DONNELL & Co (Pat O'Donnell) pod | 1343 | AXA INSURANCES (John Killeen)  ck |
| 1025 | POITÍN STILL (Anthony McMahon) pn | 1352 | TONY GARRY ck |
| 1034 | FERGUS GREALLY & MICK BYRNE jg | 1401 | GORDON JUDGE Solicitors ck/rk |
| 1043 | BALLYBODEN HOUSE (Pascal Bugler) sh/pn | 1410 | BRADLEYS PHAR,STILLORGAN 1 ( Brian. Cleary)  ck |
| 1052 | MALAHIDE MARINA VILLAGE ma | 1419 | BRUCE SHAW (Des O'Broin) ck/ak |
| 1101 | FLYNN & O'FLAHERTY sh/ma | 1428 | CLARE CIVIL ENGINEERING (AndrewWhelan) sh |
| 1110 | CORCA BAISCINN(T.Culligan, M.Considine, M.Connolly,S.Reddin) ck/sh | 1437 | ISLAND CAPITAL (Aidan Killeen) ck/ak |
| 1119 | DAL gCAIS sol | 1446 | OCSC(OConnor Sutton Cronin, M&E Consultants) ck/ak |
| 1128 | MICK MULLANE pn | 1455 | BRADLEYS PHAR,STILLORGAN 2 (Brian. Cleary) ck |
| 1137 | BANK OF IRELAND pod | 1504 | JOHN McNAMARA sh/ag |
| 1146 | GROUND FORCE Ltd (Liam Brew) sh | 1513 | CILL EOIN(Ml.O'Neill, J.O'Sullivan,Harry Roberts,L.Duggan) ck |
| 1155 | CLONLARA GAA pn | 1522 | MERRION INVESTMENT MANAGERS ck |
| 1204 | St.LOMAN'S , WESTMEATH (Liam Martin)sol | 1531 | THE NOONE'S ck |
|  1213 | JACKIE GREENE CONSTRUCTION sh | 1540 | GAELECTRIC (Barry Gavin) jg |
| 1222 | FINOL OILS Ltd. (Aidan Daly) pod | 1549 | IRELAND WORLD INV.(IWI) [R.Coffey & R. Killeen] ck |
| 1231 | INVESCO Ltd (Pensions & Investments) ck | 1558 | PADDY O'GRADY (Donbeg G.S.) jg |
| 1240 | SWAN PLANT HIRE (Brian Donnelly) ck | 1607 | EVEREST SCAFFOLDING (Michael Downes) sol |
| 1249 | ENNIS LIFTS (Sean Murphy) ag | 1616 | PASCHAL TAGGART pn |
| 1258 | HEGARTY DEMOLITION (Sean Hegarty) sh | 16.25 | |
THE GOAT INN NAAS HEALTHCARE INVESCO
Burgers served at 9th tee from 12.00 to 1800 – sponsored by our captain 2015
Tee And Hole Sponsors
| | |
| --- | --- |
| ANNE GREENE ag | ANNE & MICHAEL IGOE  sh |
| AVESTUS CAPITAL PARTNERS pod | BREEN PAT pb |
| AXA INSURANCE ck/jk | BERNS BRETT IRELAND pod |
| BARRETT MAHONY, CONSULTING ENGNRS. sh | CLAREMONT CONSTRUCTION (Tim Crowe) jc |
| CLARE ASSOCIATION – MUINTIR AN CHLAIR sh | CLARE ASSOCIATION, WATERFORD pn |
| CLYDE COURT HOTEL, BALLSBRIDGE, DUBLIN. ag | DONNELLY MARTIN ck |
| CRADDOCKSTOWN Golf Club jg | GARRY TONY ck |
| Dr. TOM HILLERY sh | GIBSON CONSTRUCTION Ltd (Paddy Gibson) sh |
| EVENT-IT Ltd (Fiona Coffey) fk | HANRAHAN DES ck |
| FAUGHS GAA CLUB jc | INVESTEC  pod |
| PAT FIRTH, TULLA TERENURE NEWLANDS ck | LEBRUIN (Tom Brown) ck/fk |
| GEITH INTERNATIONAL Ltd (Gerry Kealy) pod |  LOFTUS DES pn |
| HEGARTY DEMOLITION (Sean Hegarty) sh | LILLIS JIM sh |
| LHM CASEY pod | McMAHON GALVIN Ltd. ( INSURANCE BROKERS) sh |
| Jmac CHAUFFEUR SERVICE (John McInerney) pn | McNAMARA PAT sh |
| PAT MORONEY ck |  MOLONEY LIAM & Co. SOLRS. pn |
|  MULKERE CATHAL pn | MOUNT MERRION INN ( Eamonn O' Kennedy) pn |
| NEWLANDS GOLF CLUB ck | NIHILL PAT pn |
| POR CONSULTANTS Ltd (Paddy O'Rourke)  jc | O'DONOHOE TONY pn |
| RILTA ENVIRONMENTAL Ltd sh | PHILIP WHITE TYRE SERVICES pod |
| TOM GERATHY TYRE SERVICES pod | QUIGNEY FLAN pn |
| UTILITY BROKERS, IRELAND Ltd (Donal Maher) pn | WHELAN GUS ck |
| | |
v OUR PROGRAMME SPONSOR IS EUGENE GARRIHY
The Clare GAA Crest
Christy Killeen (Reference: John Ryan)
The Clare Insignia is unique in that it is one of the very few specifically designed as a county G.A.A hallmark. The late Monsignor Hamilton, who was county chairman at the time, is credited with "assembling" the Trade Mark in 1936, and bringing the insignia from concept to reality. It's design is an amalgamation of four separate and distinct elements, though all are inter related. The Coat of Arms and Crest denote separate branches of the O'Briens and the antique Irish Crown is often associated with Clareman, Brian Ború, who was proclaimed Ard Rí in 1002.
The late Monsignor may have chosen this illustrious Clare family for his G.A.A badge, especially, as the family may have indirectly given Clare its nom de plume "The Banner County". The "Fillers" represent Celtic Inter-locking Knots and Annulets. The Motto, "Na céada sa g-cath; na deigheanaca as" is considered a very old Dal gCais war cry with its attributed English version, "the First into battle, the last out of it". For decades, the badge's relevance was largely hidden and except for the few perceptive souls who might have observed it on championship medals or admission tickets, nobody else would have been aware of its existence.
The last 20 years has seen a gradual transformation as the emblem has come into its own and its renaissance has coincided somewhat with the banners emergence as a dual power on the playing fields.
Smith Property Management Downes Solicitors Island Capital
NOTES
We are most grateful to Sean Hegarty who has once again generously sponsored our attractive Prizes.
The Clare Champion (Seamus Hayes), Faughs clg, Clare County Express, Clare People, Newlands Golf Club (Gay Nolan) and Bliss Cuisine Catering, all should know how much we appreciate their continuous support.
Our deepest sympathy goes to the family of Frank Cleary who sadly passed away recently. Frank was Captain in 2012 and was one of our greatest supporters since our foundation.
We also wish to extend our sympathies to Jackie Greene who lost two sisters, Margaret and Anne, in recent times.
Foundation Patrons: Pat O'Donnell; Séan Hegarty; Donal Chambers (RIP); Noel Keating (RIP)
Winners 2014: 1st. Gordon Judge Solicitors: 86 ; 2nd. Flynn & O'Flaherty: 85; 3rd. Ennis Lifts: 85; 4th. Killester Travel: 84; 5th. Bradley's Pharmacy: 83; 6th. Pat Cunneen: 83; 7th. Dal gCais: 82; 8th. Kelly Pharmacy: 82. Long Drive: Ronan Killeen; Nearest Pin: Donal Nolan: Putting Competition: Jimmy Gavin
Results & Report, Friends Of Clare Silver Jubilee Golf Classic 2015
The Friends & Supporters, Clare GAA, Silver Jubilee Golf Classic took place in Newlands G.C. on Thursday May 14th 2015.
For this, our 25th Golf Classic, it was once again a highly successful day both for our fundraising and for the social dimension that goes with it.
A record 44 teams and 40 sponsors entered and although the weather was unsettled at times all enjoyed a well organised occasion.
The yield of the day is expected to be in the region of €15,000 to be put towards the development of football and hurling at underage level in Clare.
Prize Winners:
st : POITÍN STÍL PUB – 93 ;
nd : BALLYBODEN HOUSE PUB – 89
rd : GORDON JUDGE SOLICITORS – 88 ;
th : ÁRAS CHRÓNÁIN – 88
th : AXA INSURANCES – 88 ; 6th : EVEREST SCAFFOLDING – 88 ; 7th : THE GOAT PUB – 85
Christy Killeen
Chairman, Friend & Supporters, Clare GAA
Friends & Supporters Of Clare Gaa
A 25 year History
By Christy Killeen, Chairman.
Foundation
As we enter our 25th year it is worth recalling that on the 15th September 1990, Pat O'Donnell convened a meeting in the Clarence Hotel, involving a small group of Clare people in Dublin. It was to become the inaugural meeting which founded the Friends of Clare GAA, Dublin. Pat, who in 1992 was to become sponsor of Clare Hurling Teams, had been approached by the then Chairman of Clare County Board, Breandán O Bheacháin (RIP), who suggested that a fund-raising group, based in Dublin, would be very beneficial to the GAA in Clare.
The inaugural group comprised some high profile Clare names from various walks of life with a proven affinity to the GAA movement. Thereupon was founded the "Friends of Clare GAA" with Jimmy Smyth (RIP) as its first Chairman. The foundation structure included four Patrons, Noel Keating (RIP) of Kepak, Donal Chambers (RIP) of AIB, Séan Hegarty (Hegarty Demolition Ltd.), Pat O'Donnell (Pat O'Donnell & Co. Ltd.), who each contributed €1,000 for reserve purposes. The other officers elected were Maurice Murphy (Scariff) and Simon Moroney (Inagh) as Joint Secretaries & Treasurers; Pat O'Donnell (Crusheen) as PRO.
The committee members elected were Myles Clancy (RIP) [Kilnaboy], Séan Harte (Scariff), Christy Killeen (Assistant Chairman) [Cooraclare], Séan Hegarty (Ennistymon), Pat Henchy (Ruan), Noel Keating (RIP) [Kilrush], John O'Halloran (RIP) [Doonbeg], Séan O'Laoire (Inagh), Tony Vaughan (Maghera). At that time we set ourselves an annual fund generation target of approximately £20,000.
This would be raised by means of annual golf classics and other activities, and would be placed at the disposal of the County Board with a strong recommendation that they be used primarily for the development and promotion of Gaelic games in underage and post primary schools in Clare.
Original Fundraising Event
Our first fundraising event was a Golf Classic that was held at Blackbush Golf Club, Dunshaughlin, on Friday, 10th May 1991. The Captain of that club was a Clare man, Sean Markham, who spared no effort in affording us the best of facilities and a genuine welcome. It was a hugely successful outing with about 160 golfers taking part, many of whom were household names in Golf, GAA and Industry.
Our records show that the attendance included such luminaries as Mick O'Dwyer, Micheál O Muircheartaigh, Robbie Kelleher, Pat Mangan, Seamus Durack, the late Paddy Skerritt (a member of Amby McInerney's team) and many other former Clare GAA stars. The music on the evening was provided by the excellent Tony McMahon and Noel Hill, and, for good measure, a rousing song, 'The Oldest Swinger in Town', was rendered by Mick Lynch.
In subsequent years, continuously successful annual golf classics have been held at Arklow, Castlewareden, Milltown, and Newlands golf clubs. The "Friends of Clare GAA" was restructured somewhat in 1996 when Jimmy Smyth was elected as its President (having resigned as Chairman in October 1995); Christy Killeen, Chairman; Anne Greene, Secretary (since January 1995); Myles Clancy, Treasurer and Pat O'Donnell, PRO.
Footballers Success
When we started out in 1990, little did we think that the decade would be one of unprecedented success in the annals of Clare GAA. Brilliant achievements in hurling and football would gladden the hearts of thousands of success-starved Clare supporters. All of this commenced in fairly modest fashion when the Clare footballers won the All-Ireland "B" Senior Football title in 1991. The team Manager was John Maughan and the sponsor was Cooraclare-man, Martin Donnelly.
This achievement was followed by a glorious victory over Kerry in an emotion packed final in Limerick to land us the Munster Senior Football Championship title in 1992 (our first in seventy five years). The euphoria engendered in Clare by that victory was immense and the team was now poised to meet Dublin in the All-Ireland Senior Football Semi Final on Sunday, the 23rd August 1992.
Thousands of excited banner-waving, bodhrán-playing Clare supporters converged on Croke Park in one of the most colourful and exciting gatherings ever experienced in the capital city. On the evening of this game, "The Friends of Clare GAA (Dublin)", in collaboration with the County Board, arranged an after-match banquet for the team in the Burlington Hotel, Dublin to where multitudes flocked to be part of an historic occasion and to be in close proximity with members of this heroic Clare football team.
Among the attendance was Dr. Patrick Hillery, President of Ireland, and Peter Quinn, GAA President. This banquet is often spoken of, and it remains one of the most celebrated and memorable occasions ever held for a Clare gathering in Dublin.
Clare Hurlers Arrive
All of this was a foretaste of better days to come when Clare hurlers were to dominate the GAA scene on the national stage at Senior, Intermediate, U21, Minor and Junior levels. One might say that this commenced in 1993 when Clare won the Junior hurling All-Ireland championship.
However, Clare GAA reached new heights in 1995 when, under the hand of Ger Loughnane, our Senior Hurlers, captained by Anthony Daly, won the All-Ireland Hurling championship. This was the crowning glory of a truly magnificent Clare day in Croke Park, never to be forgotten by the cheering Banner enthusiasts in attendance and those across the globe.
That evening 'The Friends of Clare GAA (Dublin)' in association with Clare County Board arranged an after-match Banquet in The Berkeley Court Hotel, Dublin, but this time it was a victory celebration party for the team that had just won our first All-Ireland in eighty one years. To our great delight more All-Ireland senior hurling victories were to follow in 1997 & 2013 and the Munster title in 1998.
The taste of success was further sweetened by a series of All-Ireland final triumphs by Clare's famous U21 hurlers in 2009, 2012, 2013, 2014. Clare Minors captured an All-Ireland in 1997 and Munster titles in 2010 & 2011. Not to be outdone in 2011, our Intermediate hurlers took the All-Ireland championship.
The Amalgamation
In 1991, a new fundraising group, "Clare Football Supporters Club" was established in Clare influenced mainly by the emerging success of the Clare senior football team. Shortly afterwards a branch of that group, namely, "Clare Football Supporters (Dublin)" was set up in Dublin. This branch was chaired by Senan Griffin, Barney Sheedy, Vice-Chairman, Oliver Devitt (RIP), Secretary and John McMahon PRO. Subsequently, the group became known as "Clare GAA Supporters Club", with Dr. Patrick Hillery as Hon. President; Martin Donnelly, President, Barney Sheedy, Chairman; Pat Breen, Secretary, Mary Scales, PRO.
This unit, with its large committee became involved in fund raising activities and was very successful at Golf Classics, and across a range of publications and social events. One such 'never to be forgotten' social event was a Céili Mór at St. Brigids GAA Club on Saturday night 22nd August 1992, the eve of the All-Ireland Senior Football Semi Final clash between Clare and Dublin. Over 1500 supporters enjoyed the Tulla Céili Band, Tony McMahon and Brush Shiels. Other socials were organised for eve of hurling finals with some notable attendees as former Clare hurling 'greats', Mick Falvey and John Joe Doyle.
Both Dublin based groups continued to function as separate entities for a number of years, each with varying degrees of success in their respective spheres, before uniting in 2001 as "The Friends & Supporters of Clare GAA" under the Chairmanship of Christy Killeen. This newly constituted group had as its Patron, Dr. Patrick Hillery.
The other officers elected at the time were: Jimmy Smyth, President; Pat Breen, Secretary; Myles Clancy, Treasurer; Garry Power, Registrar; and Mary Scales as PRO. Members of the new committee included: Anne Greene (Asst. Secretary), Barney Sheedy (Vice-Chairman), Helen McDonagh (Asst. Treasurer), Sean Hegarty, Jim Crowe, George O'Halloran (RIP), Pat Firth, Fiona Killeen, Michael Considine, Colm Browne, Tony Garry, Michael Clancy, Eugene Garrihy. Both parties had agreed a new draft constitution before it became ratified at a special EGM of the newly formed group.
Our Contribution
Overall, it is fair to say that our committee and all who have engaged with us in our fundraising work over twenty five years have done so with a genuine sense of support and great respect for the ideals and objectives that under-pin our organisation. Our funding is channelled through Clare County Board for delivery towards the support of underage football and hurling development.
In this way we see our work as contributing to improvements in the mental, physical and social well-being of Clare youth. It is with some degree of humility, that at times we might hint at the notion that our efforts have contributed, albeit to a relatively minor degree, in the marvellous GAA success achieved by the County since 1991. In that time, we have contributed in excess of €500,000 to the coffers of Clare GAA for disbursement in line with our ideals.
In addition, we have made significant financial contributions to successful Clare club teams, namely, Sixmilebridge, Doora/Barefield, Wolfe Tones, Clarecastle, Doonbeg and Kilmurry-Ibrickane. All of those clubs have won Munster Senior Championships and two, Doora/Barefield and Sixmilebridge, have gone on to win the All-Ireland. We are also pleased to have contributed special amounts to Clare Camogie teams and to the victorious All-Ireland Ladies Football teams, Juniors in 1991 & 1996, and Intermediate in 2009.
In 2003, we derived great comfort from our fundraising efforts on behalf of "The Children for Children Fund" – a Clare based charity- for which we raised €3,000 at a Table Quiz.
A Viewing
I would like to mention a highly successful gathering that was held in the Goat Grill, Dublin on Thurs December 5th 2013. It was originally envisaged as a small social 'get together' of some friends to sit down and view a showing of the 2013 All-Ireland senior hurling final and its replay. Eventually, the idea formed itself into a collaborative effort between ourselves and Muintir An Chláir, and together we linked up with the Holiday Fund committee in Clare, with the aim to generate a contribution to that fund for our senior hurling team.
Over 140 people attended and as the match viewing and scores flowed, a 'Croke Park like' atmosphere filled the large room. We sold DVD's of the hurling matches and the team preparation work. Our revenue for the night was €3,144 out of which we were able to present a cheque of €2,464 to the Holiday Fund. The Chairman of the Holiday Fund together with its Treasurer ran a merchandise sales stand during the evening which took in €2,650 thus generating total revenue of €5,794 from the event.
The Treasurer of Clare Co. Board, Bernard Keane addressed the gathering and a rousing applause greeted the Clare midfielder, Conor Ryan, who spoke delightfully of the winning experience, sharing it with schools, the Clare diaspora, the aged and the sick. It was as if extra time was needed when a typical Clare late session of song, music, step-dance and 'cultural exchanges' unfolded into the night.
Our Supporters
Many will readily know that fundraising is not an easy task and its success will vary with the times. Our support comes from many counties but it has a core grouping of domiciled Clare people who want to keep in touch with their county and who have a priority in wishing to see Clare GAA teams performing well. There is little doubt but that support is more forthcoming when the county is winning but difficult to enlist when struggling and underperforming.
Fortunately, we have been able to generate support in both good and 'not so good' times, and this in itself is an indication that there are people outside the county who care, and who hold a reservoir of goodwill and love of Clare in all its endeavours. These people feel the great honour there is in wearing the Clare jersey, they themselves have nothing to gain other than the actuation of their deep commitment to Clare GAA.
We are indebted to our main sponsor, Sean Hegarty of Hegarty Demolition Ltd., who has given so generously in a variety of ways over many years. We value the great contribution made by our numerous sponsors of teams and facilities and we extend our sincere thanks to
each, and every one of them. In this regard we are especially grateful to committee members who work tirelessly in the procurement of teams and sponsorship. The GAA clubs, Faughs and Kilmacud-Crokes, have given generously of their premises to us to facilitate meetings and other events.
The Future
We are confident that in the years ahead The Friends & Supporters of Clare GAA will continue to make a worthwhile financial contribution to Clare GAA. In that context we are happy to take this opportunity of reminding readers that our 25th Golf Classic will be held at Newlands G.C. on Thursday, May 14th 2015. If you are interested in supporting this event by Tee Box sponsorship or Team (4 person) entry you should contact our Secretary, Pat Nihill at 086 4090766.
Christy Killeen
Chairman,
killeenchristy@gmail.com – 087 2581228 14/11/2014