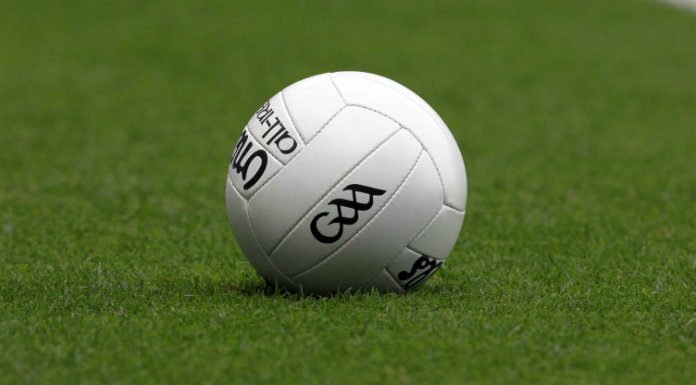 THE CLARE UNDER 20 FOOTBALL PANEL TO PLAY AGAINST TIPPERARY 7PM THIS MONDAY EVENING IN MILTOWN MALBAY HAS BEEN ANNOUNCED BY CLARE GAA.
1 OISIN O'LOUGHLIN O O Lochlainn, Naomh Brecain
2 EOGHAN CASEY E O Casthasaigh Wolfe Tones na Sionna
3 FERGAL GUINNANE F O Coinneain Cill an Disirt
4 CIARAN MCMAHON C MacMathuna Inis Diomain
5 ODHRAN CUNNINGHAM S O Cuinneagain Cill Iomar
6 FIONN KELLIHER F O Ceileachair Naomh Seosamh Dubhraith Gortlomain (JC)
7 EOIN WALSH E O Breathneach An Bratach
8 BRIAN MCNAMARA B MacConmara Cuar an Chlair
9 MICHEáL GARRY M O Fhearaigh Cuar an Chlair
10 EOIN ROUINE E O Ruain Inis Diomain (JC)
11 BRENDY ROUINE B O Ruain Inis Diomain
12 SHANE GRIFFIN S O Griofa Lios Ui Casthasaigh
13 SEAN MCNAMARA S MacConmara Micheal Ciosoig
14 THOMAS MEENAGHAN T O Muineachain An Bratach
15 JOE RAFFERTY S O Raifearaigh Naomh Seosamh Dubhraith Gortlomain
16 CIAN CORRY C O Comhraidhe Cill an Iomar
17 JOSHUA MOLONEY J O Maoldomhnaigh Cill Mhuire Ui Bhreacain
18 CONOR MEANEY C O Maonaigh LIois Ui Casthasaigh
19 CIAN MAHONY C O Mathuna Sraid an Cathrach
20 CILLIAN MCGROARY C MacRuairi Cora Finne
21 NICKI HARDIMAN N O hArgadain Naomh Seosamh Dubhraith Gortlomain
22 GAVIN DOWNES G O Dubhain CIll Mhicil
23 BRIAN MCNAMARA B MacConmara, Inis Diomain
24 TADGH LILLIS T O Laighleis Dun Beg
Management: Michael Neylon (Manager), Diarmuid Carroll, Colm Clancy, Sean O Brien, Eoin Murray (Selectors), Oscar O Dwyer (S/C), Shane Callinan (Kitman), David O Connell (Stats).
EXTENDED PANEL
CILLIAN GAVIN CLONDEGAD.
CONOR O'MAHONY DOONBEG
CONOR HASSETT KILDYSART
EANNA ROUINE ENNISTYMON
NIALL WALSH THE BANNER
EOIN KILLEEN DOONBEG
AARON KELLY WOLFE TONES
DYLAN CUNNINGHAM CLOONEY QUIN
GAVIN CARRIG WOLFE TONES
THOMAS COLLINS LISSYCASEY