St Joseph's Miltown Malbay are Senior Football Champions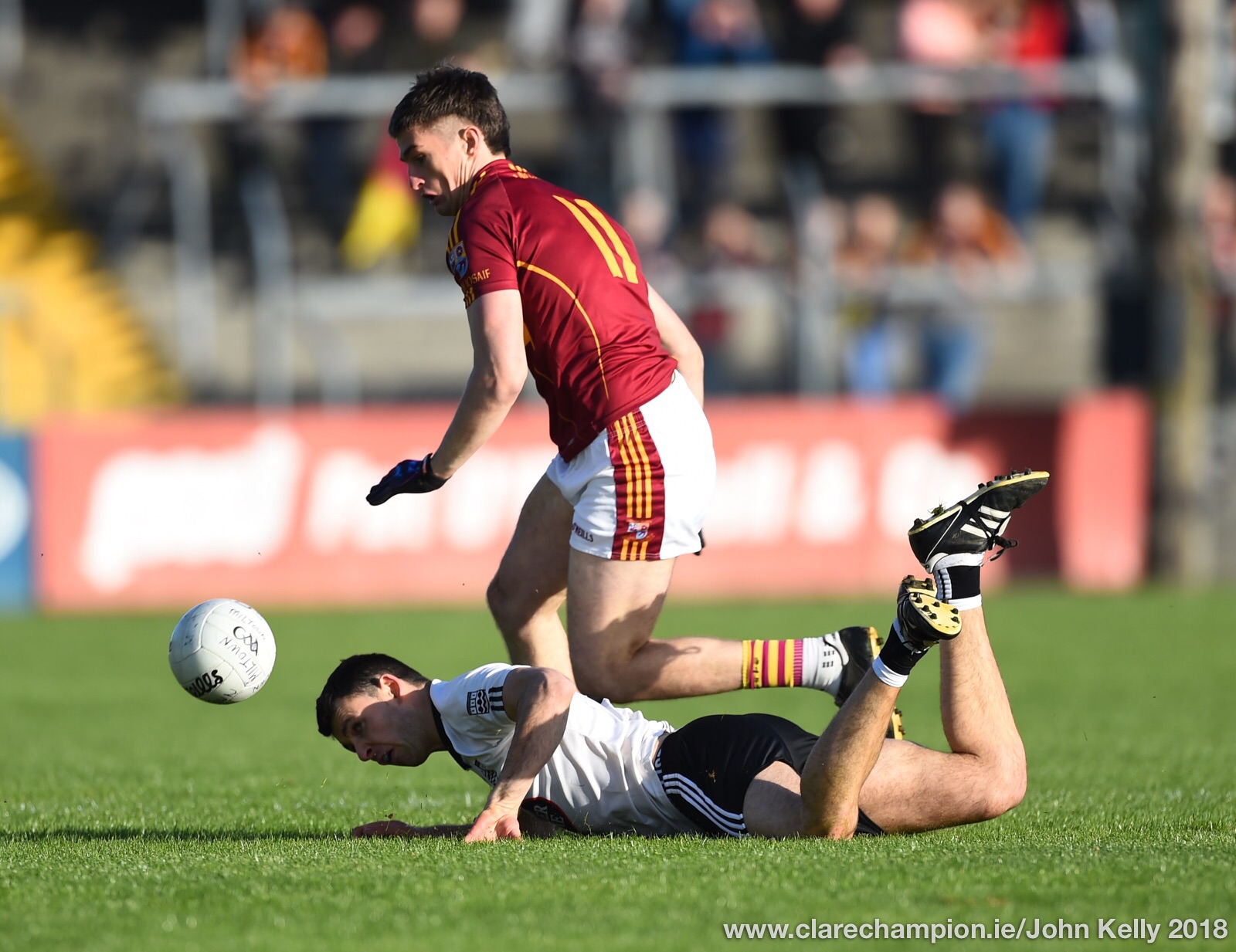 St Joseph's Miltown 0-14 Ennistymon 0-8
StJoseph's Miltown are county football champions for the 14th time, following a superb second half display in the 2018 county final in Cusack Park.
St Joseph's outscored Ennistymon by 0-8 to 0-4 in the second half, having led by 6 to 4 at the interval.
The big difference between the sides was Miltown's ability to score from play. Six of their players combined to kick their 0-10 tally from play. In contrast only Joe Dowling and Joey Rouine raised white flags from play for Ennistymon, who showed great heart throughout.
Following a frenetic first half, Miltown led 0-6 to 0-4 at half-time. Ennistymon's kick out strategy caused problems for Miltown in the opening quarter and that helped them into a 0-3 to 0-1 lead by the 11th minute. Joe Dowling kicked three of Ennistymon's first half points from play, while Joey Rouine kicked the games first score after two minutes.
Miltown were slow to settle and had Seán O'Brien not made a vital stop from Joey Rouine, the North Clare magpies would probably have led at half-time. Instead, O'Brien deflected the shot for a 45 in a move created by a superb Kevin Hehir run. At that stage, Miltown had managed to settle somewhat and points from Eoin Cleary, Kieran Malone and Cormac Murray tied the game at 0-3 each, come the 13th minute.  Eoin Cleary added two more points in the opening half, while Colin Hehir completed their first half tally.
Miltown looked a different team on the resumption and two early points from Darragh McDonagh helped into a four point lead, while Cormac Murray kicked his second in the 45th minute. Ennistymon didn't score from play in the second half, with Dowling, Aaron McNulty and Seán McConigley pointing a score each from frees. Ennistymon did threaten the Miltown goal a couple of times with Brian Curtin clearing off the line from Sean McConigley five minutes from time.
Along with Eoin Cleary, who was named man of the match, Kieran Malone and Eoin Curtin added to McDonagh's second half points for the champions.
Miltown: Sean O'Brien; Eoin O'Brien, Enda O' Gorman, Aidan McGuane; Colin Hehir, Gordon Kelly, Jamesie O'Connor; Oisin Looney, Conor Cleary; Brian Curtin, Kevin Keavey, Eoin Cleary; Kieran Malone, Darragh McDonagh, Cormac Murray.
Subs: Eoin Curtin for Kevin Keavey, Euan Reidy for Jamesie O'Connor, Sean Malone for Cormac Murray, Seanie Malone for Aidan McGuane.
Scorers: Eoin Cleary (0-5, 2f), Kieran Malone 0-3, Cormac Murray 0-2, Darragh McDonagh 0-2, Colin Hehir 0-1, Eoin Curtin 0-1.
Ennistymon: Noel Sexton; Laurence Healy, Sean O'Driscoll, Adam Ralph; Kevin Hehir, Enda Ralph, Sean Rouine; Cathal Malone, David Fitzgerald; Michael Leigh, Michael McDonagh, Willie Murphy; Joe Dowling, Sean McConigley, Joey Rouine.
Subs: Aaron McNulty for Joey Rouine, Cian Shannon for Michael Leigh, Ross O'Doherty for Michael McDonagh, Michael Houlihan for Sean Rouine.
Scorers: Joe Dowling (0-5, 2f), Joey Rouine 0-1, Aaron McNulty 0-1f, Sean McConigley 0-1f.
Referee: Jim Hickey (Cratloe).
(Report courtesy Clare Champion)