Clare GAA News & Press Releases
Subscribe to posts
Clare GAA Referees Foundation Course for new referees commencing on Monday 26th February & continuing on Monday 5th & 12th March. Venue each night is GAA Headquarters Clareabbey from 7.30 - 9.30 pm .
Contact Ger Hoey, Referee administrator 086-6789892 for further information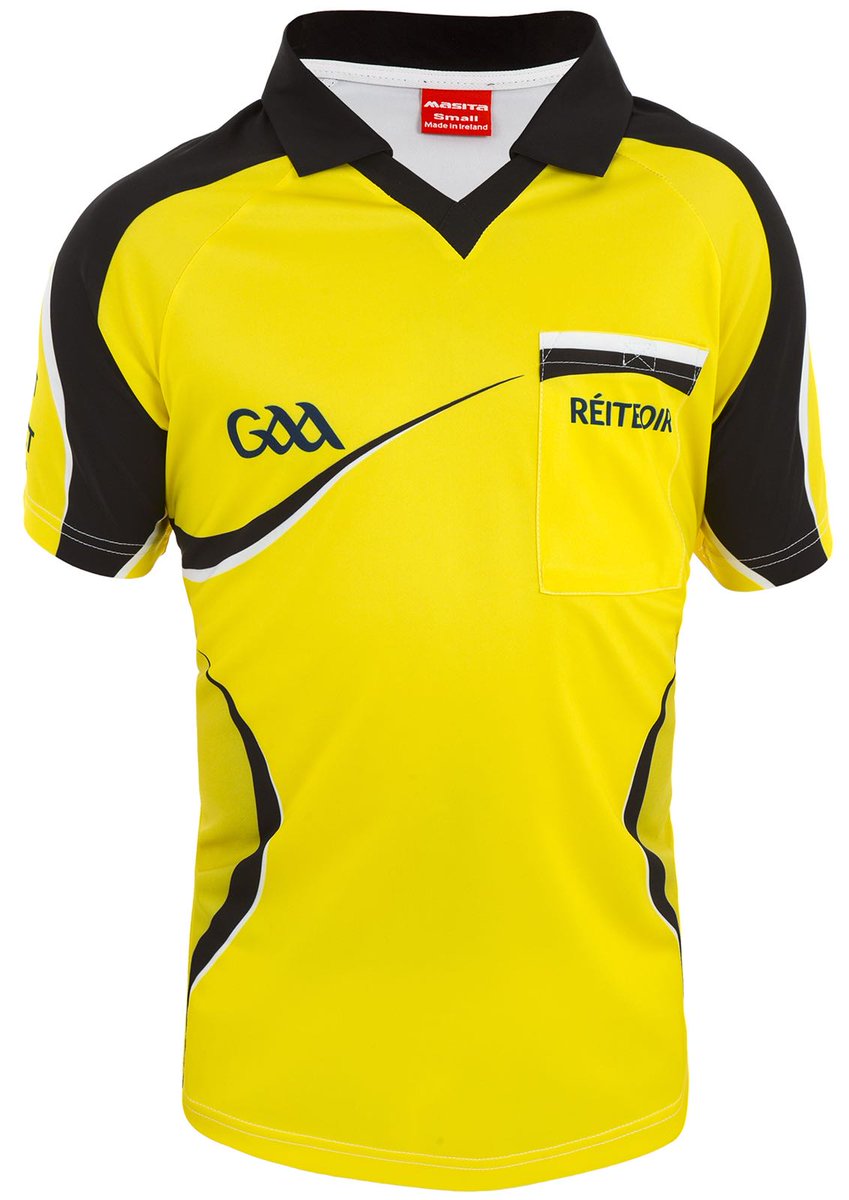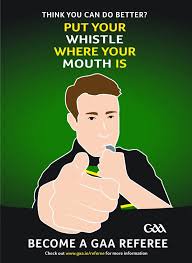 Cusack Park – New Voluntary Stewards Needed
    Cusack Park hosts many major games from the GAA calendar each year and has a long standing reputation as a well-run and welcoming venue     among players and spectators from all over Ireland. This is due in no small measure to the professionalism and courtesy of our staff and voluntary     stewards.
The Clare GAA now wishes to recruit additional stewards from the clubs of Clare to add to the existing pool of volunteers.
We would like to hear from club members, male and female, who would like to become involved in this important work for Cusack Park.
A comprehensive programme of training will be provided for all new stewards on Fri 9th Feb @ 7:30 p.m. and Sat 10th Feb @ 10 a.m. in Clare GAA Headquarters in Clareabbey, Clarecastle.
To be part of the match day action, the following criteria is required:
•Aged from 18 years old
•Available at weekends
•Active and enthusiastic
•Customer focused
•An interest in GAA would be beneficial
If you would be interested in getting involved please contact John Fawl on 086  6048823 
U21 A Preliminary Round:
Clarecastle v Kilmaley.
Under 21 A Quarter-Finals:
St Josephs v Inagh-Kilnamona.
Wolfe Tones v Clarecastle or Kilmaley.
Feakle-Killanena v Bodyke-O'C Mills.
Sixmilebridge v Newmarket.
Under 21 A Semi-Finals:
St Josephs or Inagh-Kilnamona v
Sixmilebridge or Newmarket
.
Feakle-Killanena or Bodyke-O'C Mills v
Wolfe Tones or Clarecastle or Kilmaley
U21 B Byes:
A) Cratloe.   B) Scariff-Ogonnelloe.   C) Smith O'Briens
D) Broadford v
Clooney-Quin
.
E) Ballyea v Clonlara.
F) Whitegate v O'C Mills .
G) Corofin-Ruan v Tulla.
H) Crusheen-Tubber v Eire Og
Under 21 B Quarter-Finals:
 A v C.  B v H.   D v F.   E v G.
U21 C Round 1:
A) Clarecastle v Bye
B) Parteen-Meelick vs Ennistymon.
C) Banner v Inagh-Kilnamona.
D) Bodyke v Kilmaley
Under 21 C Semi-Finals:
A v C. B v D.
      Building off the wildly popular 2015 Fenway match, the AIG Fenway Hurling Classic and Irish Festival will debut a new three-game tournament format when Super 11s hurling returns to the iconic Boston baseball venue, home of the Boston Red Sox, on Sunday, November 19.
     In the first semi-final Galway, who have just completed the 2017 All-Ireland Championship and National League double, will square off against Dublin (12.30pm ET, 5.30pm Irish time).  This is a highly-anticipated rematch of their 2015 Fenway encounter.  
The second semi-final at 1.40pm ET (6.40pm Irish time) sees 2016 All-Ireland Championship winners Tipperary meet 2016 National League champions Clare.
 The winners will collide in the final at 3.00 pm ET (8pm Irish time).  All games will be shown live on TG4 in Ireland and on NESN in the United States.
     Super 11's is a modified version of hurling which was devised by the Gaelic Players Association (GPA). Played 11 a side, it is fast, exciting and end to end.  A goal inside the designated scoring zone is worth three points, while scoring from outside the zone is worth five points.  This is one of the many innovative rules in this non-stop variation of traditional hurling.  The one-on-one penalty, first introduced in Super 11s and now used in the traditional game, adds further spice while the tap and go free, where a fouled player can tap the ball off his hurley and resume play enhances the game's incredible speed.
     A significant factor in the development of Super 11's was to allow hurling to be played in stadiums and venues all over the world where field size is invariably smaller than the traditional hurling pitch.  On November 19 Super 11's will have its third US outing.  Nearly 28,000 fans packed Fenway Park two years ago and even bigger crowds are expected next month as hurling's profile overseas is raised by bringing the ancient Irish game, the fastest game on grass dating back over 2,000 years, to new audiences.
     Showcasing amateur athletes performing at an elite level, it is hoped that this sharp, explosive brand of hurling can develop the game positively for future generations and Irish hurling fans will be able to keep in touch with the action during all three games as it is screened live on TG4 in Ireland and on NESN in the United States.
    Tickets for the AIG Fenway Hurling Classic and Irish Festival, which include all three games of the highly-anticipated tournament, are available at www.redsox.com/hurling
Under 21 A–Preliminary round;
E—Naomh Eoin/O'Currys v Ennistymon; F—Shanon Gaels/Kilmihil v Kilmurry-Ibrickane;
G—Eire Og v Lissycasey H—Cooraclare v St. Josephs, Doora-Barefield;
Quarter finals; 1—F v H;  2- Ml. Cusacks/Kilfenora/Liscannor v G;
3 - E v Kilrush-Killimer;  4—S. Breckans v Miltown St. Josephs.
Semi-finals; 1 v 3; 4 v 2
Under 21 B Quarter finals; 1—Condegad v Clarecastle; 2 - Clooney-Quin v Cratloe; 3 - Wolfe Tones v Corofin
Semi-finals; 1 v Doonbeg; 2 v 3
Under 21 C;
Banner v Kildysart with winners to play Coolmeen in the Final
SFC Winners Round 2 
Clondegad v Lissycasey
Doonbeg  v Cooraclare
O'Currys  v Kilmurry Ibrickane
Eire Og  v Cratloe
SFC Losers Round 2 
Kilfenora  v St Joseph's Doora/Barefield
Ennistymon  v St Sennans Kilkee
Corofin  v  Wolfe Tones
St Breckans  v St Joseph's Miltown
Senior Football Champ Round 1 
Eire Og v Corofin
Ennistymon v Cratloe
Lissycasey v St Joseph's Doora/Barefield
Kilmurry Ibrickane v Wolfe Tones
St Joseph's Miltown v Doonbeg
Kilfenora v O'Currys
Clondegad v Kilkee
St Breckans v Cooraclare
SHC Winners Rd 2
Ballyea v Sixmilebridge
St Josephs v Newmarket on Fergus
Eire Og v Whitegate
Inagh/Kilnamona v Clonlara
SHC Losers Rd 2
Feakle v Clooney/Quin
O'Callaghans Mills v Wolfe Tones
Cratloe v Crusheen
Clarecastle v Tulla
Senior Hurling Champ Rd 1
Feakle v Clonlara
Sixmilebridge v Clarecastle
Cratloe v Whitegate
Clooney/Quin v Newmarket on Fergus
Inagh/Kilnamona v Crusheen
Tulla v St Josephs
O'Callaghans Mills v Eire Og
Ballyea v Wolfe Tones
Junior A Hurling Champ Draw 2017
Group 1                    Group 2            

      

Group 3            
Broadford          

    

Crusheen         

    

Wolfe Tones  
Ennistymon        

    

Meelick              

    

Ogonnelloe
Clooney/Quin    

    

Ballyea              

    

O C Mills
St Josephs            

    

Eire Og              

    

Bodyke
Kilmaley
Junior B Hurling Champ Draw 2017
Group 1                    Group 2                     Group 3      

    

    

    

 

    

    

Group 4
Tulla

   

    

    

    

        

Feakle

    

    

                  Inagh/Kilnamona        

Kilmaley
Eire Og

   

    

    

    

    

Sm O Briens

   

    

    

    Parteen

    

    

    

    

    

       Wolfe Tones
St Josephs

    

         

Tubber

    

    

                 Newmarket    

    

          

Clarecastle
Whitegate

    

    

    

Sixmilebridge

    

    

    

Scariff

    

    

    

    

    

  
Junior A Football Champ Draw 2017
Group 1                    Group 2                    Group 3      

    

    

    

 

    

    

Group 4
Cratloe

    

    

    

    

    

Naomh Eoin

    

    

   Wolfe Tones          

    

    

Kilrush Shamrocks
Kilimer

    

    

    

    

    

Cooraclare

    

    

    

   Eire Og

    

    

    

    

    

    

    

Michael Cusacks
Clooney/Quin

    

    

Ballyvaughan

    

    

St Jos Milltown    

    

     

St Jos Doora Barefield
Kilmurry IB

    

    

    

Ennistymon

    

    

    

Lissycasey

    

    

    

    

    

   Clondegad
1.  Clonlara v Clarecastle   
2.  Ruan v Cratloe 
3.  Corofin v Killanena    
4.  Inagh/Kilnamona v Kilmaley
5.  Tubber v Scariff    
6.  Sm O Briens v Newmarket    
7.  Broadford v Sixmilebridge (1)    
8.  Sixmilebridge (2) v Parteen