CLARE…………….2-28     ANTRIM………………..0-12
    By Michael O Connor.
    Delight for supporters in Thurles as close on 9,000 Clare hurling men, women and mass multitudes of children acclaimed their heroes who are now the most successful bunch of Clare sportmen in terms of medal gathering in the last four seasons. The All Ireland U21 crown is once again resting on a Clare sideboard for another season
    Five short seasons ago Clare hurling was at a crossroads. A certain level of talent was reckoned to be bubbling under the surface but how to extract, refine and turn into success was proving a question. All that was required was one key win and that win that has led all the recent success to today was the Munster Under 21 title 2009 in Dungarvan. It led to the great semi final with Galway and the one point win over Kilkenny in Croke Park. The Munster finals in minor 2010 and 2011 followed before the crescendo was reached in 2012 and this retention of the crown.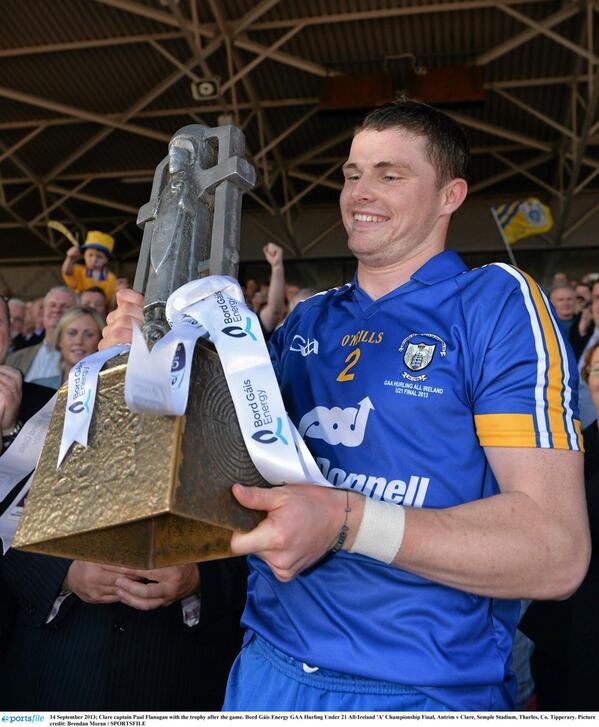 The majority of the early attendance for the first game between Kerry and Kildare were in fact Clare supporters and indeed were treated to a most entertaining game irrespective of the slow pace compared to the All Ireland U21 final proper. Cratloe native Noel McMahon was manager of the Kildare who were defeated 1-21 to 4-10 by Kerry. The greatest fear in the minds of the Clare management was the perceived belief that the hammering would be so much that the senior panelists could be withdrawn at the break.  The fact that this game was on at this time of the year was considered by many as an ideal break of emphasis from the senior replay provided the key men remained injury free.
    Antrim for their part were entering Semple Stadium as the longest odds against ever for an All Ireland final despite their elimination of Wexford who imploded in the penultimate round. Cathal Malone of Ennistymon comes into the side at left half-forward instead of the injured Aaron Cunningham in a side otherwise unchanged from that which beat Galway in the semi-final. David McInerney, Colm Galvin, Tony Kelly and Podge Collins all started for the Banner senior side in drawn All-Ireland senior final against Cork.
    Glorious autumnal heat greeted the Antrim and Clare sides to the pitch with this Banner side attempting to do what no Clare side had ever done before and that was to successfully defend an All Ireland title. Scorer in chief in the opening half was Cathal O Connell who has been probably the county's most consistent under 21 hurler in the past two years. He tallied eight first half scores with seven coming from placed balls as Antrim were at times reckless in their tackling leaving Colm Lyons with no choice but to punish indiscretions. Eoghan Campbell was acting as a sweeper for the Glensmen but it meant little as Gr Dixon's puckouts were barely reaching his own 65 and this was perfect ball for the Clare midfield to run and attack. Cathal O Connell struck for two frees before Antrim's Conor McCann opened his sides account. O Connell and clubmate Colm Galvin doubled the Clare tally by the 10th minute as Antrim were hitting hard. Jackson McGreevey struck for Antrim's second score but it was a brief respite for the Northern men as Cathal Malone (2) started a avalanche of Clare points that had pundits expecting to see the Clare senior players looking to the line after only 20 minutes. Cathal O Connell hit five points in the second quarter as Davy O Halloran hit the first goal and his clubmate Shane O Donnell did likewise minutes later. The only scorer in the second quarter for Antrim was two efforts from Ciaran Clarke. At the interval Clare were a mammoth 18 points clear on a scoreline of (2-16) to (0-4) with Clare warming up subs at the break suggesting changes were imminent early in the new half.
    Clare supporters were on their feet in the 33rd minute and again in the 37th when the Clare management made two double substitutions as Tony Kelly, David McInerney, Padraic Collins and Colm Galvin were called ashore with an eye on a bigger event in 10 days time. Tony Kelly resumed the onslaught in front of a very healthy 11,148 attendance in Semple stadium. Davy O Halloran and Stephen McAfee swopped scores as Stephen O Halloran was now at full back. Colm Galvin and Davy O Halloran added to the Clare tally as the game now was truly losing interest for spectators as an event. With the changes now completed Clare lost their shape a little but Antrim were toothless in attack bar frees from Ciaran Clarke. He was on target in the 39th, 42nd and 46 minutes but in response Clare hit back through the accuracy of Cathal O Connell and Enda Boyce. As the game trundled into the final quarter Clare were 20 points clear, (2-23) to (0-9) as Aaron Cunningham was brought on with Shane O Donnell making way. Seadna Morey was now beginning to make the trademark forays upfield with a goal on his mind. Ciaran Clarke struck two frees as Seadna Morey, Jarlath Colleran and David O Halloran struck for the champions elect as the party mood was now beginning to envelop Semple Stadium.
    The final Antrim score fell to Michael Bradley in the 59th minute as thousands of children were surrounding  the sidelines as the referee announced a minute of extra time. A mini invasion nearly occurred as Alan O Neill took the last free sending his effort over the bar as Colm Lyons blew the whistle to signal one of the great sights of Clare hurling in recent times.
    It was difficult for Antrim to contend with the force of Clare hurling as it is at the moment but it must be way more painful for Wexford and Galway who were humbled at the semi final stages and now must ponder how to recover and improve from the setbacks.
Best for Clare were Jack Browne, Seadna Morey, Colm Galvin, Alan O Neill, Tony Kelly, Davy O Halloran, Cathal Malone, Enda Boyce and Cathal O Connell. Antrim had solid efforts from Ciaran Clarke, Matthew Donnelly, Eoghan Campbell, Chris McGuinness and Stephen McAfee.
CLARE: Ronan Taaffe (Tubber), Paul Flanagan (Ballyea), David McInerney (Tulla), Jack Browne (Ballyea), Seadna Morey (Sixmilebridge)(0-2), Alan O'Neill (St Joseph's Doora-Barefield)(0-1), Stephen O'Halloran (Clarecastle), Colm Galvin (Clonlara)(0-3), Tony Kelly (Ballyea)(0-3), Peter Duggan (Clooney-Quin), Podge Collins (Cratloe), Cathal Malone (Ennistymon)(0-2) Cathal O'Connell (Clonlara)(0-11), Shane O'Donnell (Éire Óg) (1-0), Davy O'Halloran (Éire Óg)(1-4). 
Subs: Jarlath Colleran (0-1) for Kelly, Kevin Lynch for McInerney. Niall Arthur for Collins, Enda Boyce (0-1) for Galvin, Aaron Cunningham for O Donnell,
ANTRIM: Ger Dixon, Conal Morgan, Matthew Donnelly, Tiernan Coyle, Tomas O Ciaran, Paddy McNaughton, Chris McGuinness (0-1), Jackson McGreevey (0-1), Eoghan Campbell, Shane Dooey, Stephen McAfee (0-1), Niall McKenna, Daniel McKiernan, Conor McCann (0-1), Ciaran Clarke (0-7). 
Subs: Michael Dudley for McKernan, Darragh McGuinness for McCann, Michael Bradley (0-1)
Referee: Colm Lyons (Cork)
After the game the Corn na Casca Under 21 trophy was presented to the Clare captain Paul Flanagan by GAA president Liam O Neill before a veritable sea of yellow down below them on the Field of Dreams Semple stadium.