Clare 1-16      Kilkenny 0-18
        It was billed as the match of the day in this the opening round of the Allianz Hurling League, the meeting of the All-Ireland champions (Clare) and the team they had replaced (Kilkenny), the team that also happen to be the reigning National League champions.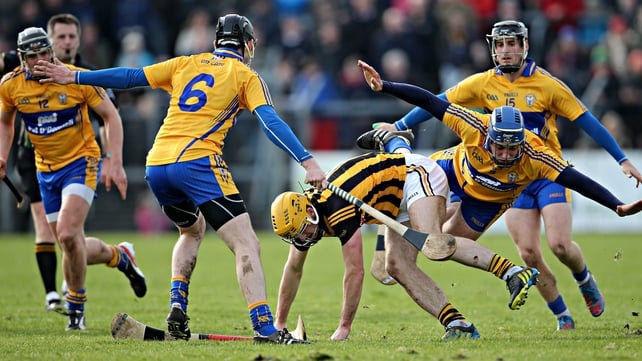 Thus it turned out also, a fine contest between two wholly committed sides. Forget about the standard — it was a miracle the game was played at all, credit to theground staff at Cusack Park given that half the country is under water. On a heavy pitch in which the ball occasionally disappeared from view, completely buried in the mud, this was as much about physical strength and mental doggedness as it was about hurling ability and in those conditions, both sides measured up. 

Clare lined out with nigh on a full-strength side, keeper Donal Touhy, corner-back Seadhna Morey and midfielder Shane Golden the only changes from the starting 15 in the All-Ireland final replay win last September.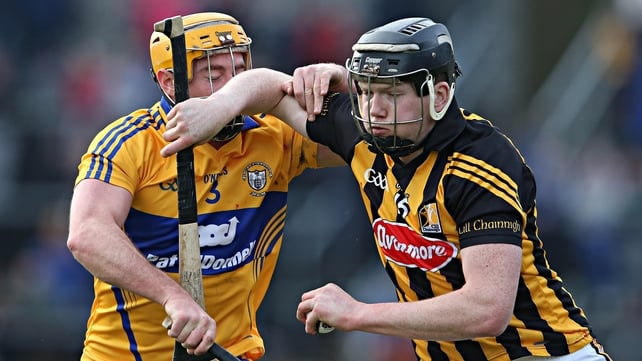 Kilkenny, by contrast, chose to start with a number of perennial All Stars and multi-All-Ireland-winners on the bench, youngsters Brian Kennedy and Joey Holden among a host of newcomers started ahead of the vastly experienced defensive duo Jackie Tyrrell and Tommy Walsh, Aidan Fogarty also held in reserve for the attack. 

All would see action eventually but it said much for Brian Cody's mindset coming into this game, the emphasis on new blood rather than just on winning. 

In front of a good crowd of 10,125, it was Clare off to the better start and it was that man Colin Ryan leading the charge, the metronome from Newmarket in magnificent early-season form. Three points Colin had on the board in the opening five minutes and 0-3 to zero Clare led, the rafters already ringing to the sound of the Clare roar. 

Kilkenny though came to play and theirs were the next four points, the peerless Henry Shefflin with three of those. And yes, in this his 16th senior season, looking stronger and sharper than ever. 

Then came the game's only goal and a score of class it was too, a goal that has become the hallmark of this Clare side. A good build-up saw the ball end in the hands of will-o'-the-wisp Conor McGrath who delayed just long enough for the supporting Colin Ryan to get into perfect position — the pass, the goal, the lead once again (1-3 to 0-4), and thus was the pattern for the afternoon set. 

First Clare, then Kilkenny, then Clare again, the lead and the control changing hands on a regular basis throughout as two well-matched sides dug in. 

The goal signalled another Clare surge and with Ryan continuing to score freely, in the 26th minute they had built a five-point lead, 1-8 to 0-6. Back came Kilkenny, that man Henry to the fore but supported on the scoreboard by corner-forwards Walter Walsh and Jonjo Farrell (along with full-forward Mark Kelly who looked lively all game), by the now more powerful Colin Fennelly at centre-forward but especially, by the very tasty Padraig Walsh in midfield. 

A tied game it was at half-time, 1-8 to 0-11, no real wind advantage to speak of, and tied it would be again on three more occasions through the second half as neither side could quite establish dominance in the increasingly difficult conditions. Twice in this half Kilkenny did threaten a goal of their own but each time they were thwarted by the bravery of Donal Touhy in the Clare goal, first denying Shefflin from a penalty after Mark Kelly was brought down (45th minute), then a block from Farrelly then minutes later, just one point coming from the two subsequent 65s. 

That was the winning of the game, those saves; had they been scored the likelihood is that Kilkenny would have driven on but as it was, it kept Clare in touch and though Kilkenny would again take the lead entering the final ten minutes (0-17 to 1-13), it was Clare finishing the stronger, sub Tots O'Connell with a beauty of a point, then Conor McGrath and finally and fittingly, Colin Ryan again. 
CLARE: D Tuohy; C Dillon, D McInerney, S Morey, P O'Connor, Conor Ryan, B Bugler; P Donnellan (0-01), S Golden; Colin Ryan (1-09, 0-07f), Tony Kelly, J Conlon (0-01); C McGrath (0-03), S O'Donnell, C Galvin (0-01). Subs: P Collins for Kelly (48), C O'Connell (0-01) for Bugler (55), N O'Connell for Golden (60). 
KILKENNY: D Herity; C Fogarty, M Walsh, B Kennedy; J Holden, L Ryan, Paul Murphy; C Buckley, P Walsh (0-02); H Shefflin (0-12, 0-08f, 0-02 '65), C Fennelly (0-01), E Larkin; JJ Farrell (0-01), M Kelly, W Walsh (0-02). Subs: J Tyrrell for Fogarty (HT), J Brennan for Kelly (53), A Fogarty for W Walsh (65), T Walsh for Buckley (65).
Referee: Brian Gavin (Offaly)